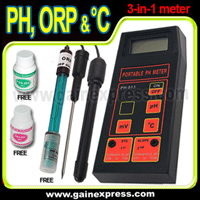 Orp Temperature Meter Photos Catalog
Product Description:
PH-0131 is an advanced pH, ORP and Temperature meter specifically designed to provide
precise measurements even under harsh conditions. The controller is EQUIPPED WITH TRIPLE SCALE, pH, mV and Temp, which GIVES YOU HIGHER MEASUREMENT that reaches up to 0-14.00pH, 0 to ±1999mV, and 0°C to 100°C respectively and are the most important units to you help you determine the status of your tank, pond, pool, etc., certainly an advantage over other measuring device. PH-0131 features the FREE REPLACEABLE PH & ORP ELECTRODES, incase your ORP or pH electrode malfunctions. It precisely determines the pH value, the redox tension and the temperature of the intended solution to be measured to eliminate the adverse effect on fish's immune systems. FULLY EQUIPPED with ATC, automatically adjust itself to correct temperature discrepancies during use. It's important to use a meter with automatic temperature compensation (ATC) to give you the most accurate measurement in any type of environment temperature.
With our portable 3-in-1 measuring device, you can accurately and comfortably measure the redox potential of your aquarium, pond, spa or pools and soil. Use it sea water aquarium for controlling of an ozone addition as well as in sea and fresh water basins. Ideally also to the indirect chlorine measurement in the swimming pool. PH-0131 can be used in Pisciculture or Fish farming and hatchery, wine production and food processing, floristics and orchids breeding, analysis of fluids (ph-value) and other liquids, Koi breeding, Boilers, hemp breeding, water conditioning, laboratories, cooling towers, industrial wastewater and other various industrial application.
Enjoy the technologically advance, highly accurate and portable 3-in-1 meter for your aquatic and industrial and needs! Only GAIN EXPRESS offers a FREE ORP ELECTRODE for use in ORP/Redox measurement use. Not just one electrode but TWO FREE electrodes! pH and ORP Electrodes as well as Temperature Probe can be bought individually here at Gain Express!
Buy Now!
Feature :
*
Uses REPLACEABLE pH electrode & ORP electrode just so you won't have to buy the whole unit when the pH and ORP electrodes are not functioning and a remote stainless temperature probe
* Equipped with ATC (Automatic Temperature Compensation) that adjust itself automatically to the current temperature
* With BNC connections for use with a replaceable electrode is also provided for easy connection
* Provide HIGH & VERY ACCURATE MEASUREMENTS and features a fast response and easy to calibrate with 2 point calibration and measuring range of 0-14 pH with resolution & accuracy of .01 pH.
* approved by strict quality and safety standards which ensures a reliability, durability, long and trouble-free life that can be transported easily
* A 4-digit LCD display that gives clear readings even in the darkest of environments within seconds!
* It has an easy to use interface and monitors data continuously thru the large display system in just few seconds.
* Includes a 9V battery that lasts approximately up to 50 hours.
* It includes a comprehensive User's manual, which contains instructions and examples on how to best utilize PH-0131.
Specifications
Measuring Range: pH: 0.00 to 14.00pH ORP/mV: 0 to ±1999mV Temp: 0°C to 100°C
Accuracy: pH: 0.01pH ORP/mV: ±0.1% F·S±1 digit Temp:±0.4°C
Resolution: pH: 0.01pH ORP/mV: 1mV Temp:0.1°C
Display: 4-digit LCD
Power Supply: 9V Battery (up to 50 hours)
Operating
Conditions: Room Temperature: 0°C to 50°C Humidity: d95%
Input resistance: 10¹²©
Dimension: 180mm x 83mm x 46mm
Weight: Instrument only: 290g Gross weight: 570g
Calibration:
(values refer to a temperature of 25°C): * Single point in neutral buffer solution
* Double point in neutral buffer solution plus an acid or alkaline buffer
solution
* Offset regulation range: ±1pH
* Slope: 85 - 100%
Temperature
Compensation: Completely automatic with ATC probe. When probe is off, temperature is fixed at 20°C which can be modified with calibration screw.
Operating information:
* Connect the BNC plug of the electrode to the Electrode Input terminal.
* Connect the Probe jack to the Probe input terminal.
* Fix the battery at the back of the unit. Make sure that the polarity ("+" and "-") of the battery is in accordance with the polarity of the battery compartment.
PH Calibration Setting :
*
Pour a small solution of pH6.86 and pH4.01 (or pH 9.18) into clean beakers.
* It is advised to use two beakers for each buffer solution for a particularly accurate calibration. The first is for rinsing the electrode and the second is for calibration. In this way, the risks of contaminating the buffer solution are reduced to a minimum.
* Switch on the instrument.
* Press the pH key to display the pH measurement.
* Immerse the electrode in a pH 6.86 or pH 9.18 buffer solution then shake gently.
* Regulate the trimmer found at the lower left position with a screwdriver until the buffer solution value corresponding to the measuring temperature is obtained.
* Immerse the electrode in a pH 4.10 buffer solution and shake it gently.
* After about a minute, regulate the trimmer found at the lower right position until the buffer solution value corresponding to the measuring temperature is obtained.
* The calibration of the instrument's pH range is now complete.
ORP Calibration Setting:
*
Immerse the meter in 12880µs/cm (12.88EC) calibration solution. (12880µs/cm or 12.88EC buffer solution is not included in the package).
* Allow the reading to stabilize. Turn the Calibration knob until "12.88EC" appears. Rinse the electrode with distilled water, and wipe it with filter-paper.
* Immerse the meter in "1413µs/cm (1.41EC)" calibration solution until "1413 (1.41EC)" shows.
(1413µs/cm or 1.41EC buffer solution is not included in the package).
Accessories included:
* Comprehensive User's Manual
* Mini-screw driver
* Detachable Temperature Probe
* Replaceable pH Electrode
* Replaceable ORP Electrode (FREE only here at Gain Express)
* Black man-made leather protective carrying case
Packaging: Black man-made leather protective carrying case in a white gift box
Warranty: 2 years warranty
Company Contact:

Contact Name: Gary Tong
Company Name: Gain Express Holdings Ltd.
Email:
Tel: +852 2362-7800
Fax: +852 2362-7838
Street Address: Flat A, 10/F Yuey
Kong Centre, 45-47 Bulkeley Street
Hunghom, Kowloon, Hong Kong
Website:
http://www.gainexpress.com
Member name: GainExpressHoldingsLtd
Country:
Hong Kong
Member Since: 18 June 2010
Total Leads:
118 GainExpressHoldingsLtd Import Export Business Leads
Business focus: Refractometer, Loupe, Diamond, Moissanite Identification, Meters, Testers
Chat:

Verify:
Safe Import Export Tips
Product Category:
Battery testers
[20]