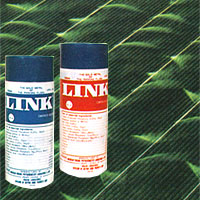 Bio Fertilizer Chain Photos Catalog
Dear Sirs,
THE SAVIOR OF PLANTS,
BIO FERTILIZER OF CHAIN REACTION AGENT for Crop:
LINK CONDENSED SOLUTION
We
are the certified ISO 9001:2000 company in Taiwan, our group always develops the super products of new type which all are a best booming sale with high profits. In this time, we recommended you carefully that it is the worlds best systematic BIO FERTILIZER-THE CHAIN REACTION AGENT:G.P.L.-37.
WHAT IS THE CHAIN REACTION GPL-37 AGENT?
GPL-37 Chain Reaction Agent is the world first unique complex. Its main effects are to activate the inter-chain reaction of the chief contents of the product creating the effects needed. Even the nutrition absorbed from through the leaf surface and root may take part in the chain reaction by means of GPL-37. The facts, Link is a guide of which all nutrient factors and fertilizers (included farmers used various fertilizers such as NPK, Urea), it is able to lead and support the all nutrients to join the process of chain reaction, therefore, if you are the manufactory of any kinds of fertilizer, you may consider to combine and mix with our Link (NOTE: the Raw Material grade is named SuperLINK), for which effect improvements and increased some more functions with boosting a high value and power more on your various fertilizers (liquid and granular are available). The chain reaction process ranges from INFILTRATION, TRANSFER, CIRCULATION, CONVERSION, PRODUCTION, CREATION, REPLACEMENT, STIMULATION, MULTIPLICATION, CATALYSIS and RESTORATION in combined effects.
NOTE: LINK is made from NATURAL VEGETABLE EXTRACTS and its composition as follows:
MAJOR MATERIAL:
G.P.L.-37 Chain Reaction Agent (Natural Vegetable Extracts) 75% (Dry basis)
COMPOSITION:
N (650ppm); P (3ppm); K (14ppm); MgO (1.5%); Ca (145ppm); Fe (5ppm); Cu(0.4ppm); Mn (1.0%); Zn (1.0%) and the thousands of polyamine and hormone-like of which extracting from natural vegetable, the each contents below 10-8 to 10-10 , these ingredients has so many biological activities so that reach many kinds of efficacy on various stage of growth of plant.
THE SPECIAL EFFECTS OF THE CHAIN REACTION AGENT:
1).Mobility:
Effects of this agent are focused on various stage of growth of a plant by transferring the elements accordingly into the plant in mobility. To promote the rapid growth of plant with multiple reactions as a result of the aid and activation of GPL-37 chain reactions.
2). Systematization:
Because this agent is capable of providing a series of special effects on any part of the crops with chain reactions and mobility - from rooting, budding, blooming, fruit keeping, enlarging, sweetening and to better coloring, etc. It can also stop the overgrowth of VINES. Chronic application of the multi-effect agent is to be rewarded with the magic results. It has a condensed solution, which yields earlier maturing and harvesting time also increase water holding capacity. In addition, it helps reduce of other compound fertilizers.
3). Rapid Absorption, Conspicuously Effective, Perfect Absorption. The LINK, it uses a small dosage, about dilute 2,000 parts to 3,000 parts / 34ml to 50ml in 100 liters water, and dosage about 200ml to 240ml / per ha. / each time. Yield improvement for 20% to 80%. It is a real economical and outstanding crop nutrient / stimulator.
Up to now, LINK Condensed Solution is the best and unique crops BIO FERTILIZER in world, absolutely has large market demand. We have pleasure to introduce ourselves as an exporter of the first unique fertilizer in world; it is our honor and duty that we recommended this product to your esteem company. We shall thank you to please let us know this product of interest to you, with quantities, packing, shipment required, etc., to enable us to send you our offers, and technical data / information, etc. to our mutual interesting.
We are now looking forward to your early response and then send the technical data / information for your perusal. Do not let this opportunity pass you by. Assuring you of our best services at all times.
Yours faithfully,
JIN-SHENG CHEN / PRESIDENT
GROWING-UP INTERNATIONAL CORP. TAIWAN
E-mail:
growing8@seed.net.tw
; URL:www.growing8.com
Company Contact:

GROWING-UP Internatioanl Corp.
Contact: Mr. Jin-Sheng Chen
Email:
Website:
www.growing8.com
TEL: +886-49-2330395
FAX:+886-49-2318076
Address: No. 166, Tai Ping Road, Sec. 2, Tsao Tuen Nantou, 542 Taiwan, R.O.C.
Website:
http://www.growing8.com
Member name: growing
Country:
Taiwan
Member Since: 04 July 2007
Total Leads:
5 growing Import Export Business Leads
Business focus: kitchenware, food processing tool, cheft tools, vegetable slicer, mandolin slicer, peelers, knives, promotional gifts, agrochemicals, fertilizers
Chat:

Verify:
Safe Import Export Tips