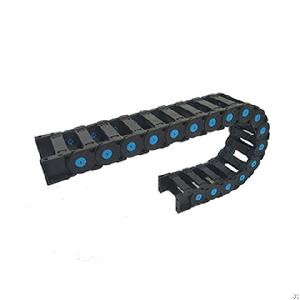 Flexible Plastic Cable Photos Catalog
Flexible Plastic Cable Drag Chain
China Load Bearing Energy Chain, Flexible Plastic Cable Drag Chain,
Energy Chain Exporter
Inside height=25mm, Iinside width =25mm~150mm. (unit:mm)
TEZ25.25K1 25*25 35*42 55.75.100.125.150 BridgeLow-cover openable
Tez25.38k1 25*38 35*55
Tez25.50k1 25*50 35*67
Tez25.57k1 25*57 35*76.5
Tez25.75k1 25*75 35*92
Tez25.103k1 25*103 35*120
TEZ25.25F1 25*25 38*41 75.100.125.150 Total enclosedLow-cover openable
Tez25.38f1 25*38 38*54
Tez25.50f1 25*50 38*66
Tez25.75f1 25*75 38*91
Tez25.103f1 25*103 38*119
Inside height=35/45/56/65/80mm, Inside width =50mm~300mm.(unit:mm)
Tez35*50d 35*50 58*77 75.100.125.150
     Total enclosed
     Up-cover openable
   Low-cover openable
Tez35*60d 35*60 58*87
Tez35*75d 35*75 58*102
Tez35*100d 35*100 58*127
Tez35*125d 35*125 58*152
Tez35*150d 35*150 58*177
Tez35*175d 35*175 58*202
Tez35*200d 35*200 58*227
Tez45*50d 45*50 68*79 75.100.125.150.
     Total enclosed
     Up-cover openable
   Low-cover openable
Tez45*75d 45*75 68*104
Tez45*100d 45*100 68*129
Tez45*125d 45*125 68*154
Tez45*150d 45*150 68*179
Tez45*175d 45*175 68*204
Tez45*200d 45*200 68*229
Tez56*100d 56*100 83*139 150.200.250.300.
Total enclosed
Up-cover openable
   Low-cover openable
Tez56*125d 56*125 83*164
Tez56*150d 56*150 83*189
Tez56*175d 56*175 83*214
Tez56*200d 56*200 83*239
Tez56*250d 56*250 83*289
Tez56*300d 56*300 83*339
Tez65*100d 65*100 95*147 150.200.250.300.
Total enclosed
Up-cover openable
Low-cover openable
Tez65*125d 65*125 95*172
Tez65*150d 65*150 95*197
Tez65*175d 65*175 95*222
Tez65*200d 65*200 95*247
Tez65*250d 65*250 95*297
Tez65*300d 65*300 95*347
TEZ80*100D 80*100 111*151 200.250.300.350.400.500 Bridge or
Total enclosed
Up-cover openable
Low-cover openable
Tez80*125d 80*125 111*176
Tez80*150d 80*150 111*201
Tez80*175d 80*175 111*226
Tez80*200d 80*200 111*251
Tez80*250d 80*250 111*301
Tez80*300d 80*300 111*351
Note  
1. Both bridge type and enclosed type are available here
2. Double rows or several rows can be customized
Installation for cable drag chain 
Put a screw driver vertically into the opening hole at both ends of the cover and then open the cover .put the drag chain for cables and oil pipes according to the instructions provided .put the cover back .note that the fixed end and the moving end of a cable should be fixed solidly
when used in a long sliding service, it is recommended to use some supporting rollers or guide groove, it will be perfect then.
Characteristics and Applications of Drag Chains:
1. The product can be used for such locations where reciprocating, of motions are required so that internally internally installed cables, oil pipes, gas tubes and water tubes can be dragged and protected.
2. Each joint of the chain can be opened up so as to facilitate repairs and maintenance.It gives low noises and is of anti-wearing while running.It can also be operated under high speed.
3. The drag chains have already extensively used in digital-controlled machine tools, electronic equipement, machinery for stone industry, machinery for glass industry, machinery for doors and windows, moulding injectors, manipulators, lifting and transport equipment and automatic warehouses, etc.
Construction of the drag chains
1. The appearance of the chain looks like the crawler of a tank consisting of certain number of joints.The joints of crawler are freely turned round.
2. The same series of chain has same inner height and out height and same pitch but the inner height and bend radius R can be made per different specifications.
3. A unit chain joint is consisting of a left-right chain plate and a updown cover.Each chain joint can be opened up so as to facilitate assembly and dismantal without threading.Cables, oil pipes and gas pipes can be put into the drag chain after the cover plate is opened.
4. Spacer are available for use, which are able to divide the space inside the chain into divisions according to requirements.
Basic parameters of drag chains
5. Material:reinforced nylon.It can stand with high pressure and has good tensile strength, toughness and elasticity, wearing and falmable resistance.
6. Resistances:It is oil and salt resistant.
7. Operating speed and acceleration:Max.operating speed is 5m/s.and max.acceleration is 5m/s2.(specific speed and acceleration depends on specific situation).
8. Service life:Under normal condition, 5 million reciprocating motions can be reached (which is also related to the operating conditions.)
Technical data
Tensile strength 180N/mm² Volume resistance 1010‐1015
Impact strength 50KJ/m² Water Absorption
     (23°c) 4%
Temperature range -40°C- 130°C Friction factor 0.3
Surface resistance 10¹º‐10¹²Ω Falme resistance HB(UL94)
Company Contact:

Contact Name: Yasheng Lee
Company Name: Hebei Ruiao Machine Tool Accessories Producing Co., Ltd
Email:
Tel: +863174958921
Fax: 86-0317-4958913
Street Address: Zhifangtou
Industrial Park, Jixian County,
Hebei P
Hengshui, Hebei, China, Hebei 61000
China
Website:
http://www.ruiao-dragchain.com/
Member name: RuiaoMachine
Country:
China
Member Since: 07 September 2019
Total Leads:
21 RuiaoMachine Import Export Business Leads
Business focus: Drag Chain, Bellows Cover
Chat:

Verify:
Safe Import Export Tips
Product Category:
Machine tool design
[27]