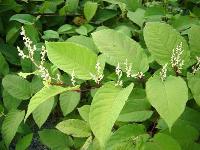 Resveratrol Dietary Photos Catalog
Traditional Andmodernuses:
Huzhang ("tiger cane") or giant knotweed is an east Asian species (Polygonum
cuspidatum), belonging to the Polygonaceae family. Documented uses in traditional Chinese medicine date to the first century BC, and contemporary medical uses supported by clinical results include acute microbial infections or viral hepatitis, chemo- or radiation-induced leukocytopenia, atherosclerosis, and hyperlipidemia.
Pharmacology:
In animal experiments, huzhang has exhibited antitussive, antihistaminic, hypotensive, vasodilating, cytotoxic, and antioxidant properties, among others. Huzhang is also a concentrated source of resveratrol (3,5,4¡Â-trihydroxy stilbene), an antioxidant phenol produced in response to fungi. Resveratrol has also shown antimutagenic activity in bioassays conducted on bacteria in vitro (umu and Ames tests). And, in a recent investigation conducted in vivo and in vitro, resveratrol displayed chemopreventive effects at three critical stages of carcinogenesis. Specifically, resveratrol was found to 1) induce phase II drug metabolizing enzymes (antiinitiation); 2) mediate anti-inflammatory effects and inhibit cyclooxygenase and hydro-peroxidase (antipromotion); and 3) induce human promyelocytic leukemia cell diferentiation (antiprogression). Resveratrol was also found to inhibit the development of preneoplastic lesions in vitro and tumorigenesis in vivo. Very recently, it was reported that Huzhang extract is one of the best active-oxygen scavengers for the prevention of skin aging induced by UV-irradiation and free radical. Experiments conducted in vivo indicate that resveratrol is a potent vasodilator and inhibitor of platelet aggregation. Recent work in dogs and humans indicate that other concentrated sources of resveratrol (i.e., red wine and grape juice) eliminate cyclic blood-flow reductions caused by platelet-mediated thrombosis.
Active Compounds:
Huzhang is characterized by anthraquinones and their glycosides, napthoquinone, 3,5,4¡Â-trihydroxy stilbene (i.e., resveratrol), piceid, fallacinol, citreorosein, questin, questinol, protocatechuic acid, (+) catechin, 2,5-dimethyl-7- hydroxychromone, 7-hydroxy-4-methoxy-5-methylcoumarin, flavonols, polysaccharides, and condensed tannins.
Regulatory Status:
Under U.S. law, huzhang extract is regulated as a dietary supplement. As of this writing, no European governments had issued monographs or regulations for nutraceutical uses of huzhang. NOTE: The statements in this publication have not been evaluated by the FDA.
Selected Reference:
Encyclopedia of Chinese Drugs. Jiangsu Institute of Modern Medicine, Shanghai Scientific and Technical Publications, 1977. [Chinese] Encyclopedia of Common Natural Ingredients Used in Foods, Drugs, and Cosmetics, by Albert Leung, Ph.D. and Steven Foster. Hitoshi Masaki et al. Biol Pharm Bull. 18, 162-166, 1995. Huang WZ. Fujian Zhongyiyao, 18(4), 27, 1987. [Chinese] Kimura Y et al. Planta Med, 48, 164, 1996. Meishang Jang et al. Cancer chemopreventive activity of resveratrol, a natural product derived from grapes. Science, vol. 275, 218-220, 1997. Orsini, F. et al. Isolation, synthesis, and antiplatelet aggregation activity of resveratrol 3-O-b-D glucopyranoside and related compounds. J Nat Prod. 60:1082-87, 1997. Pharmacognosy, Phytochemistry, Medicinal Plants, by Prof. Jean Bruneton. Lavoisier Tec & Doc/Intercept Ltd., 1995. Records of Chinese Materia Medica Vol. 1. Institute of Materia Medica, Chinese Academy of Sciences, 1982. [Chinese]
Company Contact:

Contact Name: Lily Liu
Company Name: Changsha Organic Herb Inc.
Email:
Tel: 86 731 2967872
Fax: 86 731 2967861
Street Address: No.2405dushidongjia,
Mawangdui North Road, Xingsha,
Changsha, China
Website:
http://www.organic-herb.com/
Member name: OrganicHerbInc
Country:
China
Member Since: 26 April 2007
Total Leads:
44 OrganicHerbInc Import Export Business Leads
Business focus: Plant Extracts, Resveratrol, Reishi Extract, Grape Seed Extract
Chat:

Verify:
Safe Import Export Tips