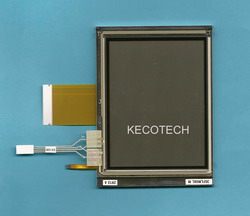 Lcd Digitizer Touch Photos Catalog
More
Lcd Digitizer Touch Screen Pda Cell Phone Gps
:

Product Category

Lcd Digitizer Touch Photos Catalog

Lcd Digitizer Touch Business Cards

Lcd Digitizer Touch Members Directory

Lcd Digitizer Touch Videos

Lcd Digitizer Touch email alerts

Offers to Sell and Export

Free Business Magazines
Keco Technology CO., Ltd is specialized in supplying LCD and parts for PDA Brands: Dopod, HTC, HP, O2,
I-Mate, ASUS, Mio, Palm, Blackberry, Loox, Sony, TomTom, Gigabyte, Siemens, NEO, Toshiba, Orange SPV, T-Mobile, Sprint, Dell, Ipod series.
The LCDs include Toppoly, Sharp, Toshiba, Sony, Samsung, Sanyo, NEC, Hitachi, Philips, LG, Epson, etc. In addition, we also provide laptop LCD, PSP LCD, NDS series LCD, playstation mainboard, all types of IC and electronics mobile camera.
LCD model with their compatible PDA models are as following:
Toppoly
TD035STEB1:Acer3230/3250, N30/N35/N50, ASUS A620/A620BT, Asus MyPal A716, Holux GPS mile 60
TD035STEB2: Dopod699/696(2nd gen), Loox420, Himalaya, HP ipaq37xx, HP ipaq Rx3x15, HTC Alpine, Orange SPV 1500/M1000/M2500, PDA2, XDA Iii, Qtex2020i, HP3115, T-mobile MDA M1500/2500, Fujitsu Loox 420
Td035steb3: hp1717/2110/2410/2750, hp ipaq hx21xx, ipaq 24xx/27xx, hx 2000, xda 2
TD035STEB4: Acer N30/N35/N50, Asus A635
TD035STED1: Dopod D700(1st gen, silver line), Orange SPV 2000, Qtex9090, XDA IIs, HTC Blueangel, Siemens SX66, VPA 1620, Audio Vox PPC 6600, Verizon VX6600, Sprint 6600.
TD035STED2: Mp4, PDA
TD035STED3: Loox520/500, HP 2490B/2750B/2790B/2795B
TD035STED4: Asus632, A636
TD035STED5: HP ipaq 194x/1950/1955
Td035sted6:
TD035STED7: HTC Panda, HTC P6300, O2 XDA Argon
TD035TTEA2: Hp 5700/5940
Td035ttea3:
TD035STEE1: Loox N560
TD028STEB1: Dopod818/828/838, 818pro, I-mate PDA2k, 02xda mini, Orange M500, Orange SPV M3000, Orange SPV M600, Qtex S100/S110/S200, T-Mobile MDA Vario, UTStarcommPPC-6700, ASUS 535
TD028STEB2: HTC Prophet;ASUS P525;O2 XDA neo ;Qtek S200
TD028TTEB1: HTC P3300/3350/3600, Dopod P800/D802/E616
TD028TTEB2: Dopod C858
TD028TTEB3: HTC Tytn II, Kaiser
TD028TTEB6: Dopod C858
TD028THED1: Dopod S1, HTC P3450
TD028TTEC1: Eten X500/X800
TC028STEA2: Qool QDA700
TD028TTEA2: Loox L100X
TD028TTEA3: HTC 3400 (Gene)
TD020THEE7: Dopod 310
TD022SHEB2: Dopod 565/575/585/586, Audiovox SMT5600, I-mate SP3i, SP3, 02xphone, Orange SPV C500, Qtex8010, HTC Amadeus
TD022THEC1: Dopod 566/586/c600/595/596, I-mate SP5m, I-mate SPJAS, Orange SPV C700, Qtex8300/8310/8600, T-Mobile SDA
TD022DHEA1: Dopod A710
Td025ttea1:
TD025THED1: Dopod C720/C720W; HTC S620
Td026ttea1: asus 526
TD024TTEA3: I-Mate Jama 101
Sharp
Ls024b7dw51: Palm treo 700
Ls024b7dw52:treo 750
LS024B7DH51: Palm treo 700
LS030Q7DH01: Lenovo et280
LQ030B7DH53: Palm Z71/Z72
LQ030B7DH55: Plam Z71/Z72
LQ030B2DB51/52: Palm M505
LQ038J7DH53/55: Palm lifedrive, TX/TE
LQ035Q7DB02: Acer N10
LQ035Q7DH01: Dell Axim X3, Garmin c310 street pilot
LQ035Q7DH04: Dell Axim X30, Dell X30
LQ035Q7DH05: Dell Axim X50
Lq035q7dh06: dell axim x3 dell axim x30
LQ035Q2DD54: Sharp Rz-N150S
LS037V7DD03: Casio DT-10M50, Cingular2125
LS037V7DD02: Hitachi e800
LS037V7DD05: Dell X50U, Dell Axim X50V
Ls037v7dd06
LS040V7DD02: Toshiba e800/e8xx
LQ030B7DH53/55: Zire 71/72
Lq031b1dd03:
LQ026B7UB03: Blackberry PDA
LQ043T3DX03: Sony PSP
Ls028v7dx01 60H00130-00M: dopod diamond
Ls032b7lx01: t-mobile g1
LQ038Q7DB01: HP ipaq 5450 HP ipaq 5455
ls035b7ug01: Iphone 3G
Sony
Acx525aky-7:
Acx533akz-7: treo 600
Acx544akn-8:treo 800
ACX502BMU/W: HP1935/1940/4150/4155/4350/4355/6315/6365, HP ipaq193x/194x
ACX502AKN: Dopod 696(1st gen)/696i/699, HP2200, ipaq HP2210, Orange SPV
m1000, o2 xda
ACX502BMV-7: Dopod D700(2nd gen), 02XDA Iis, Qtex9090, Orange SPV M200,
HTC Blueangel, I-mate PDA 2000, Siemens SX 66, vpa 1620, Audio Vox PPC 6600, Sprint 6600
ACX706AKM: Dopod 686, Qtek 1010
ACX526AKM: Dopod D900, I-mate jasjar, Loox720, MDA Pro, Orange SPV M5000, Qtex9000, XDA Exec, XDA Executive
ACX525AKM: Sony Ericsson P9xx, P900
Acx501akm: hp h3970
ACX502ALM: Lenovo XP618,PSC FALCON 4220
ACX523AKM: HP ipaq hx47xx
ACX533AKM: Treo 650
Acx538akm: hp 6515/6510
ACX544AKM: Treo 680
ACX357AKM: Dopod C858/HTC P4350/dopod c800/HTC P4351/O2 Xda Terra
ACX342BKM8: Orange SPV C600, Cingular 2125, Qtek 8310 (Tornado-Douton)
ACX342AKM8: Blackberry 8700 cc
ACX362AKM-8: Dopod S620 (Excalibur)
ACX346AMK/Z-8: Blackberry 8700c
ACX357AKN-8(60H00061-00M): HTC P3300(Aritemis)
ACX357AKM-8(60H00062-00M): HTC P4350(Herald)
ACX357AKQ: HTC P4550 (Kaiser)
ACX507ALQ-3: Sony Clie PEG-TJ27
ACX557AKM: Treo 750v(Cheetah)
ACX709AKM-2: Sony Clie-n750c
Acx704akm-7: hp 3760/3760/3650/3600/3670
Acx502akq-7
ACX566AKM: Palm 500
ACX517AKQ-8: Zire 71/72
Samsung
LTP217QV-F01: Blackberry 8100
LTP256QV-F01: Blackberry 8700
LTP234QV-MF: Blackberry 7100G/7100V
LTP234QV-F01: Blackberry 7100i
LTP243QV-E01: Palm Treo 650/700p
LTP241QV-F02: Dopod S730 (Wings)
LMS283GF01: Dopod S1
LMS283GF01: Dopod P860
LMS283GF04: HTC Cruise Dopod P860
LMS283GF06: Dopod S1 CDMA XV6900
LTP280QV-E01: Dopod818/828/838, HTC Wizard (Cingular8125), 02XDA 11 Mini, Orange SPV M500
LTP283QV-F01: Qtel G100 (Galaxy)
LTP243QV-E01: Treo650
LTP283QV-F01: Eten G500
LTP300QV-E01: Zire 71/72
LTE400WQ-E01: Mio710/910
Ltp400wq-f01:
Lms430hf03-001:
LTP500GV-F01: Dopod X7500/U1000 (Athena)
Ltp350qv-f08
Ltp350qv-e06
LMS350GF04: Mio c220
Sanyo
TM038QV-67A03: HP ipaq h3850/3950/3835
Nec
NL2432HC17-01B: ipaq 6818/6828, mio A700, O2 ATOM
NL2432HC17-02B: Sony Ericsson P1000, GPS medion PNA210
NL2432DR22-12B: Toshiba e310/e330/e740/e300
Nl2432dr22-11b: asus a600
NL2432HC22-23B: mio336/339
NL2432HC22-22B/25E: PDA/Tomtom Go300
NL2432HC22-37B: mio336/339
Nl6427hc19-01b: mio 810
Toshiba
LTM035A776C: HP Jornada568/565/380/560
LTM035A776A: HP Jornada568/565/380/560
Ltm035a776
Hitachi
TX09D83VM3CEA: Mio P350/P550/C510/A201
Tx09d23vm1caa: hp 1910
TX07D04VM0APA: HTC P4500 Tytn (Hermes)
TX09D06VM0APA: HTC P4350 (Herald)
TX09D05VM0APA: HTC P3300 (Artemis)
TX06D10VM0AAA: Dopod S710 (VOX)
Tp0705apaa0
Company Contact:
Contact Name: Shirley Zhang
Company Name: Keco Hong Kong Co., Ltd
Email:
Tel: 86-755-82991805
Fax: 86-755-82993676
Street Address: Unit 2812, Runheng
Building, Caitian Road, Futian
District, Shen Zhen City, Guangdong,
China 518000
Website:
http://www.kecotech.com
Member name: shirley1010
Country:
China
Member Since: 06 July 2009
Total Leads:
41 shirley1010 Import Export Business Leads
Business focus: Lcd, Pda Parts, Dopod, Htc, Hp, O2, I-mate, Asus, Mio, Palm, Blackberry, Loox, Sony
Chat:

Verify:
Safe Import Export Tips