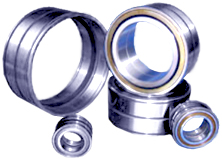 Row Cylinderical Photos Catalog
SL series roller bearings SL0450 and SL 04 series ,the bearing with single face or doube face sealing
are positioning bearings of two line and full-rollers. A complete unit is directly assembled with inner ring ,roller and outer ring, The cylindrical rollers are guided by the inner retaining edge while there is a entity middle retaining edge on the outer ring .There are two circle groove on the outer surface .It is easily positioned in axilal direction with the stopping ring ,The seat width may be smaller than the width of the bearing so as to reduce the axial directional space requirement.
WD NTN INA SKF FAG NSK
NNF5008-2ZNV SL04-5008NR SL04-5008pp NNF5008ADA-2LSV NNF5008B ● 2L ● SV RS5008NR
NNF5009-2ZNV SL04-5009NR SL04-5009pp NNF5009ADA-2LSV NNF5009B ● 2L ● SV RS5009NR
NNF5010-2ZNV SL04-5010NR SL04-5010pp NNF5010ADA-2LSV NNF5010B ● 2L ● SV RS5010NR
NNF5011-2ZNV SL04-5011NR SL04-5011pp NNF5011ADA-2LSV NNF5011B ● 2L ● SV RS5011NR
NNF5012-2ZNV SL04-5012NR SL04-5012pp NNF5012ADA-2LSV NNF5012B ● 2L ● SV RS5012NR
NNF5013-2ZNV SL04-5013NR SL04-5013pp NNF5013ADA-2LSV NNF5013B ● 2L ● SV RS5013NR
NNF5014-2ZNV SL04-5014NR SL04-5014pp NNF5014ADA-2LSV NNF5014B ● 2L ● SV RS5014NR
NNF5015-2ZNV SL04-5015NR SL04-5015pp NNF5015ADA-2LSV NNF5015B ● 2L ● SV RS5015NR
NNF5016-2ZNV SL04-5016NR SL04-5016pp NNF5016ADA-2LSV NNF5016B ● 2L ● SV RS5016NR
NNF5017-2ZNV SL04-5017NR SL04-5017pp NNF5017ADA-2LSV --------- RS5017NR
NNF5018-2ZNV SL04-5018NR SL04-5018pp NNF5018ADA-2LSV NNF5018B ● 2L ● SV RS5018NR
NNF5019-2ZNV SL04-5019NR SL04-5019pp NNF5019ADA-2LSV --------- RS5019NR
NNF5020-2ZNV SL04-5020NR SL04-5020pp NNF5020ADA-2LSV NNF5020B ● 2L ● SV RS5020NR
NNF5022-2ZNV SL04-5022NR SL04-5022pp NNF5022ADA-2LSV NNF5022B ● 2L ● SV RS5022NR
NNF5024-2ZNV SL04-5024NR SL04-5024pp NNF5024ADA-2LSV NNF5024B ● 2L ● SV RS5024NR
NNF5026-2ZNV SL04-5026NR SL04-5026pp NNF5026ADA-2LSV NNF5026B ● 2L ● SV RS5026NR
NNF5028-2ZNV SL04-5028NR SL04-5028pp NNF5028ADA-2LSV NNF5028B ● 2L ● SV RS5028NR
NNF5030-2ZNV SL04-5030NR SL04-5030pp NNF5030ADA-2LSV NNF5030B ● 2L ● SV RS5030NR
NNF5032-2ZNV SL04-5032NR SL04-5032pp NNF5032ADA-2LSV NNF5032B ● 2L ● SV RS5032NR
NNF5034-2ZNV SL04-5034NR SL04-5034pp NNF5034ADA-2LSV NNF5034B ● 2L ● SV RS5034NR
NNF5036-2ZNV SL04-5036NR SL04-5036pp NNF5036ADA-2LSV NNF5036B ● 2L ● SV RS5036NR
NNF5038-2ZNV SL04-5038NR SL04-5038pp NNF5038ADA-2LSV -------- RS5038NR
NNF5040-2ZNV SL04-5040NR SL04-5040pp NNF5040ADA-2LSV ------- RS5040NR
NNF5044-2ZNV SL04-5044NR SL04-5044pp NNF5044ADA-2LSV ------- RS5044NR
NNF5048-2ZNV SL04-5048NR SL04-5048pp NNF5048ADA-2LSV ------- RS5048NR
NNF5052-2ZNV SL04-5052NR SL04-5052pp ------- ------- RS5052NR
NNF5056-2ZNV SL04-5056NR SL04-5056pp ------- ------- RS5056NR
NNF5060-2ZNV SL04-5060NR SL04-5060pp ------- ------- RS5060NR
Company Contact:

Contact Name: David Huang
Company Name: Wuxi Wanda Industrial Co., Ltd.
Email:
Tel: +86-510-82711966 , 82791931
Fax: +86-510-82736388 , 82718635
Street Address: 1700-270 Zhongshan
Road, Wuxi 214002, Jiangsu, China
Website:
http://www.wd-bearing.com
Member name: WuxiWandaIndustrial
Country:
China
Member Since: 15 August 2007
Total Leads:
9 WuxiWandaIndustrial Import Export Business Leads
Business focus: WD Brand Bearings, Bearing Components
Chat:

Verify:
Safe Import Export Tips
Product Category:
Roller bearings
[553]