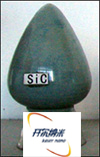 Silicon Carbide Photos Catalog
Chemical formula: SiC beta
Purity: 99.0%
[O] <0.6%
free [Si] <0.2%
APS: 30 nm, 50nm
SSA:
60-80 m2/g
True density: 3.22 g/cm3
Bulk density: 0.08 g/cm3
Crystal cell: Cubic
Color: Green
CAS No.: 409-21-2
EINECS Number: 206-992-8
Form: Powder
Solubility in / Miscibility with Water: Insoluble
Hazard class: No
Shelf time: 24 months
General properties & features:
It has high purity, small particle diameters, large specific surface area, high surface activity, low loose loading density, excellent mechanic, thermal, electrical and chemical properties, e.g., it has high hardness and melting point, high wear resistance and fine self- lubricating, anti-creep, anti-oxidization, different radiation or adsorption of light, low thermal expansive coefficient and large high temperature strength. It can be used as microwave susceptor, semiconductor, IR radiation materials and so on.
Some Applications:
1) nanostructured materials: it provides hard, higher ductility and strength etc. mechanical properties, and self-lubricating, anti-corrosion/oxidization to be used in the sectors of metallurgical, petrochemical, mechanical, air/space-crafts, e.g. bearings or other anti-wear part, liquid fuel injector, crucibles, high power and frequency modules, semiconductor components.
2) SiC nano coatings on the surface of tools, moulds or functional components with some performances such as anti high temperature, thermal emission, wear resistance and absorption wave and lucency.
3) The nano composites with enhanced performances in the matrixes of metals, ceramics, and polymers. For example, composites of SiC and PI or silicon rubber can anti high temperature; used in the fuser film sleeve of laser printer made of polyurethane resin, SiC nanopowder can improve itís thermal conductivity and wear resistance, prolong ití life by two times; composites of SiC and alloy steel have the performance of high hardness and toughness.
4) New nucleating/refining or sintering agents in metals or alloys or polymer or ceramic or microcrystalline glass materials for smaller grain size with improved mechanical properties etc..
5) It also can be used in the lubricants.
Chemical formula: TiN
Purity: >99.0%
[O] < 0.23%, (C<0.2%, Fe<0.04%, Si<0.02%)
APS: 20 nm max
SSA: 80 m2/g
True density: 5.22 g/cm3
Bulk density: 0.08 g/cm3
Crystal cell: Cubic
Color: black
CAS No.: 25583-20-4
EINECS Number: 247-117-5
Shelf time: 24 months
It possesses many strong points including high purity, small particle diameters, large specific surface area, high surface activity, violet light shield larger than 80%, good separate property. It has excellent electric conductance, so it can be used to make electrodes and electric contacts etc.
1) It may be used as Barrier layer in contact and interconnect metallizations, Bio-materials, Cutting tools, Mould, Gate electrode in metal-oxide-semiconductor (MOS) transistors, Low-barrier Schottky diode, IR absorber, Nanocomposites of ceramics and polymer, Optical devices in aggressive environments, Plastic molds, Prostheses, Surgical Device, Wear resistance coating and be used as keeping fresh wrapper material, high obstruct polyester material container, electric conduct ceramic.
2) Nanometer titanium nitride can be used in the fuel batteries.
For example, China Ocean University prepared nano-powder catalyst TiO2 by our TiN nanopowder to reduce the quantity of noble metal Pt used in the fuel cell with higher properties of electrocatalysis.
Company Contact:

Contact Name: Erinhsing
Company Name: Hefei Kaier Nanotech & Development Co., Ltd
Email:
Tel: 86-551-5314886
Fax: 86-551-5315779
Street Address: 17 Tianhu Road,
Hi-tech Park, Hefei, Anhui Province,
China
Website:
http://www.hfkiln.com/
Member name: Erinhsing
Country:
China
Member Since: 30 June 2008
Total Leads:
12 Erinhsing Import Export Business Leads
Business focus: Advanced Ceramics, Silicon, Silicon Nitride, Silicon Carbide, Boron Carbide, Zirconium Carbide, Titanium Carbide, Titanium Nitride, Aluminium Nitride
Chat:

Verify:
Safe Import Export Tips
Product Category:
Silicon carbide
[157]