Antarctica Country Data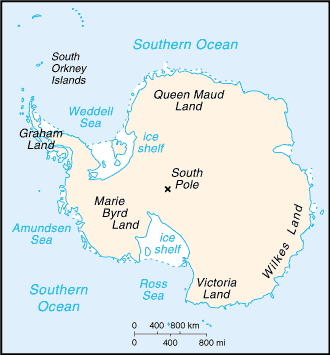 Area:
total: 14 million sq km
land: 14 million sq km [280,000 sq km ice-free, 13.72 million sq km ice-covered] [est.]
note: fifth-largest continent, following Asia, Africa, North America, and South America, but larger than Australia and the subcontinent of Europe
Climate:
severe low temperatures vary with latitude, elevation, and distance from the ocean East Antarctica is colder than West Antarctica because of its higher elevation Antarctic Peninsula has the most moderate climate higher temperatures occur in January along the coast and average slightly below freezing
Terrain:
about 98% thick continental ice sheet and 2% barren rock, with average elevations between 2,000 and 4,000 meters mountain ranges up to nearly 5,000 meters ice-free coastal areas include parts of southern Victoria Land, Wilkes Land, the Antarctic Peninsula area, and parts of Ross Island on McMurdo Sound glaciers form ice shelves along about half of the coastline, and floating ice shelves constitute 11% of the area of the continent
Natural resources:
iron ore, chromium, copper, gold, nickel, platinum and other minerals, and coal and hydrocarbons have been found in small uncommercial quantities none presently exploited krill, finfish, and crab have been taken by commercial fisheries
Population:
no indigenous inhabitants, but there are both permanent and summer-only staffed research stations
note: 28 nations, all signatory to the Antarctic Treaty, operate through their National Antarctic Program a number of seasonal-only [summer] and year-round research stations on the continent and its nearby islands south of 60 degrees south latitude [the region covered by the Antarctic Treaty] these stations' population of persons doing and supporting science or engaged in the management and protection of the Antarctic region varies from approximately 4,000 in summer to 1,000 in winter in addition, approximately 1,000 personnel, including ship's crew and scientists doing onboard research, are present in the waters of the treaty region peak summer [December-February] population - 4,219 total Argentina 667, Australia 200, Brazil 40, Bulgaria 15, Chile 237, China 70, Czech Republic 20, Ecuador 26, Finland 20, France 100, France and Italy jointly 45, Germany 90, India 65, Italy 90, Japan 125, South Korea 70, NZ 85, Norway 44, Peru 28, Poland 40, Romania 3, Russia 429, South Africa 80, Spain 28, Sweden 20, Ukraine 24, UK 205, US 1,293, Uruguay 60 [2007-2008] winter [June-August] station population - 1,088 total Argentina 176, Australia 62, Brazil 12, Chile 96, China 29, France 26, France and Italy jointly 13, Germany 9, India 25, Italy 2, Japan 40, South Korea 18, NZ 10, Norway 7, Poland 12, Russia 148, South Africa 10, Ukraine 12, UK 37, US 337, Uruguay 9 [2008] research stations operated within the Antarctic Treaty area [south of 60 degrees south latitude] by National Antarctic Programs: year-round stations - 38 total Argentina 6, Australia 3, Brazil 1, Chile 4, China 2, France 1, France and Italy jointly 1, Germany 1, India 1, Japan 1, South Korea 1, NZ 1, Norway 1, Poland 1, Russia 5, South Africa 1, Ukraine 1, UK 2, US 3, Uruguay 1 [2008] a range of seasonal-only [summer] stations, camps, and refuges - Argentina, Australia, Bulgaria, Brazil, Chile, China, Czech Republic, Ecuador, Finland, France, Germany, India, Italy, Japan, South Korea, New Zealand, Norway, Peru, Poland, Romania, Russia, Spain, Sweden, Ukraine, UK, US, and Uruguay [2007-2008] in addition, during the austral summer some nations have numerous occupied locations such as tent camps, summer-long temporary facilities, and mobile traverses in support of research [March 2008 est.]
Economy - overview:
Fishing off the coast and tourism, both based abroad, account for Antarctica's limited economic activity. Antarctic fisheries in 2005-06 [1 July-30 June] reported landing 128,081 metric tons [estimated fishing from the area covered by the Convention on the Conservation of Antarctic Marine Living Resources [CCAMLR], which extends slightly beyond the Antarctic Treaty area]. Unregulated fishing, particularly of Patagonian toothfish [Dissostichus eleginoides], is a serious problem. The CCAMLR determines the recommended catch limits for marine species. A total of 36,460 tourists visited the Antarctic Treaty area in the 2006-07 Antarctic summer, up from the 30,877 visitors the previous year [estimates provided to the Antarctic Treaty by the International Association of Antarctica Tour Operators [IAATO] this does not include passengers on overflights]. Nearly all of them were passengers on commercial [nongovernmental] ships and several yachts that make trips during the summer. Most tourist trips last approximately two weeks.
Airports:
27 [2008]
Ports and terminals:
there are no developed ports and harbors in Antarctica most coastal stations have offshore anchorages, and supplies are transferred from ship to shore by small boats, barges, and helicopters a few stations have a basic wharf facility US coastal stations include McMurdo [77 51 S, 166 40 E], and Palmer [64 43 S, 64 03 W] government use only except by permit [see Permit Office under Legal System ] all ships at port are subject to inspection in accordance with Article 7, Antarctic Treaty offshore anchorage is sparse and intermittent relevant legal instruments and authorization procedures adopted by the states parties to the Antarctic Treaty regulating access to the Antarctic Treaty area, to all areas between 60 and 90 degrees of latitude south, have to be complied with [see Legal System ] The Hydrographic Committee on Antarctica [HCA], a special hydrographic commission of International Hydrographic Organization [IHO], is responsible for hydrographic surveying and nautical charting matters in Antarctic Treaty area it coordinates and facilitates provision of accurate and appropriate charts and other aids to navigation in support of safety of navigation in region membership of HCA is open to any IHO Member State whose government has acceded to the Antarctic Treaty and which contributes resources and/or data to IHO Chart coverage of the area members of HCA are Argentina, Australia, Brazil, Chile, China, Ecuador, France, Germany, Greece, India, Italy, NZ, Norway, Russia, South Africa, Spain, UK, and US [2007]
Trade Leads of companies wanting to do business with Antarctica

Medical Portable Ventilator - Jiuxinmedical (
China ) - Offers to Sell and Export - Thu 05 Jun, 2008 8:06 am - physical specifications dimensions width 50cm depth 46cm height 110cm weight 15kg environmental sp...
Targeted Countries: Aland Islands Antarctica Belgium

Jixi-h Oxygen Cylinder - Jiuxinmedical (
China ) - Offers to Sell and Export - Thu 05 Jun, 2008 8:30 am - quot jiujiuxin quot brand seamless steel gas cylinders quot jiujiuxin quot brand seamless steel cylinders and aluminum alloy gas cylind...
Targeted Countries: Antarctica Benin Kenya

Jixi Oxygen Regulator - Jiuxinmedical (
China ) - Offers to Sell and Export - Thu 05 Jun, 2008 9:26 am - detailed product description it adopts built in safety valve for exhaust the pressure reducing mechanism adopts piston spring pressure reducing ...
Targeted Countries: Antarctica Bangladesh Colombia

Nickel Bar - Jedbai (
China ) - Offers to Sell and Export - Tue 21 Oct, 2008 3:18 am - we offer nickel bar astm b160 uns n02200 n200 uns n02201 n201 diameter amp gt 5mmlength amp lt 4000mm we sincerely welcome friends from all ...
Targeted Countries: Antarctica Bangladesh
Collapsible Mouse , Rat, Squirrel, Skunk, Cat Trap - Chenhai233 (
China ) - Offers to Sell and Export - Wed 25 Mar, 2009 4:54 pm - specification folding trap cage paint surface item no amp #65306 mst 08043 size 100x28x28cm 120x28x28cm 150x30x30cm 150x30x40cm weig...
Targeted Countries: Antarctica USA UK

Optical Window - dragonoptics (
China ) - Offers to Sell and Export - Tue 30 Jun, 2009 6:05 am - optical window according to custom design to manufacture infrared windows uv fused silica windows caf2 windows znse windows si windows etc ...
Targeted Countries: Antarctica Bhutan Cameroon
Paint Greenish Black T-post All Kinds Of Size 0.95 1.25 1.33 Ib / Ft - ChangMing (
China ) - Offers to Sell and Export - Sun 12 Jul, 2009 8:59 am - paint greenish black t post all kinds of size 0 95 1 25 1 33 ib ft we professional produce and export the paint greenish black t post from 1...
Targeted Countries: Angola Anguilla Antarctica

Par20 Led 3x1watt, High Power Spotlight, 3x2watt Lamp - Lylight (
China ) - Offers to Sell and Export - Mon 03 Aug, 2009 11:39 am - par20 led 3x1watt high power spotlight 3x2watt lamp high power leds hpled can be driven at hundreds of ma vs tens of ma for other leds so...
Targeted Countries: Antarctica Bangladesh Bolivia
Qingdao China To Seattle La Lb Oakland Usa Ocean Shipping Freight Cost T / T 14d - Qingdaoshipping (
China ) - International Shipping - Mon 28 Sep, 2009 7:17 am - qingdao china to seattle la lb oakland usa ocean shipping freight cost t t 14d a modern freight shipping and logistics company providing domes...
Targeted Countries: Angola Anguilla Antarctica
Special Mitsubishi Grandis Car Dvd Player Gps Navigation, Tv, Rds, Steering Wheel - suav (
China ) - Offers to Sell and Export - Sat 10 Oct, 2009 3:17 am - product description model no cav 8070gs 1 7inch 16 9 tft touch screen 2 compatible withdvd vcd cd wma mp3 mp4 avi cd r cd rw dvd r dvd...
Targeted Countries: Antarctica Austria USA
Water Proof Lisence Plate Cmos Camera For Car With Night Vision Function - suav (
China ) - Offers to Sell and Export - Sun 11 Oct, 2009 1:40 am - product description model no cav 620a water proof lisence plate cmos camera 1 image sensor 1 3inch color cmos 2 tv system pal nts...
Targeted Countries: Solomon Islands Seychelles Antarctica
Car Dvd Gps Tv For Vw Passat Cc, Golf Plus, Jetta A5 / Gti / R32, Golf 5, Scirocco - suav (
China ) - Offers to Sell and Export - Sun 11 Oct, 2009 11:45 pm - 1 special for vw magotan passat b6 polo jetta golf tiguan eos tsi seat leon rabbit sagitar baro skoda octavia 2 gps with m...
Targeted Countries: Antarctica Botswana Cook Islands