Christmas Island Country Data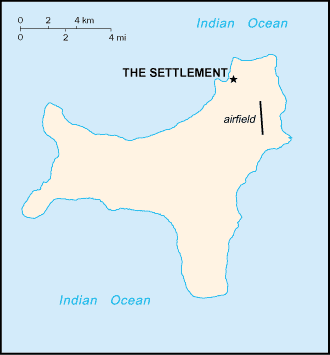 Area:
total: 135 sq km
land: 135 sq km
water: 0 sq km
Climate:
tropical with a wet season [December to April] and dry season heat and humidity moderated by trade winds
Terrain:
steep cliffs along coast rise abruptly to central plateau
Natural resources:
phosphate, beaches
Population:
1,402 [July 2007 est.]
Age structure:
0-14 years: NA
15-64 years: NA
65 years and over: NA
Nationality:
noun: Christmas Islander[s]
adjective: Christmas Island
Ethnic groups:
Chinese 70%, European 20%, Malay 10%
note: no indigenous population [2001]
Languages:
English [official], Chinese, Malay
Capital:
name: The Settlement
geographic coordinates: 10 25 S, 105 43 E
time difference: UTC+7 [12 hours ahead of Washington, DC during Standard Time]
National holiday:
Australia Day, 26 January [1788]
Economy - overview:
Phosphate mining had been the only significant economic activity, but in December 1987 the Australian Government closed the mine. In 1991, the mine was reopened. With the support of the government, a $34 million casino opened in 1993, but closed in 1998. The Australian Government in 2001 agreed to support the creation of a commercial space-launching site on the island, expected to begin operations in the near future.
Labor force:
NA
Budget:
revenues:
expenditures:
Agriculture - products:
NA
Industries:
tourism, phosphate extraction [near depletion]
Exports:
Exports - commodities:
phosphate
Exports - partners:
Australia, NZ [2006]
Imports:
Imports - commodities:
consumer goods
Imports - partners:
principally Australia [2006]
Currency (code):
Australian dollar [AUD]
Exchange rates:
Australian dollars per US dollar - 1.2137 [2007], 1.3285 [2006], 1.3095 [2005], 1.3598 [2004], 1.5419 [2003]
Airports:
1 [2007]
Ports and terminals:
Flying Fish Cove
Trade Leads of companies wanting to do business with Christmas Island

Artistic Red And White Makeup Hang Tag - Printingstickers (
China ) - Offers to Sell and Export - Fri 18 Aug, 2017 8:16 am - product description production name artistic red and white makeup hang tag material 1 c1s c2s coated art paper 300gsm 1500gsm 2 offset paper...
Targeted Countries: China Christmas Island

Heat Shield Reflective Protection Cool Tube - pkfiresleeve (
China ) - Offers to Sell and Export - Fri 15 Nov, 2019 5:45 am - designed to provide the ultimate thermal protection from damaging heat heat shield reflective protection cool tube is designed to resist abrasions ...
Targeted Countries: Mongolia Christmas Island Morocco

Aluminum Paper Preheater Vent Defrost Hose - pkfiresleeve (
China ) - Offers to Sell and Export - Wed 20 Nov, 2019 4:09 am - aluminum paper preheater vent defrost hose connects between exhaust manifold heat shield and air cleaner this hose goes from the shroud on your ma...
Targeted Countries: Christmas Island Australia Algeria

Sae R2 Hose Manufacturer - OcelotHydraulic (
China ) - Offers to Sell and Export - Wed 29 Jul, 2020 5:44 am - product name sae 100 r2at rubber hose brand name ocelot tube the inner tube is made of oil resistant synthetic rubber reinforcement two brai...
Targeted Countries: Bulgaria Cambodia Christmas Island