Congo Country Data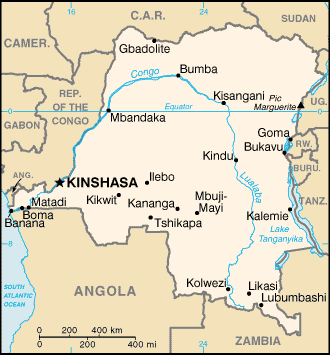 Area:
total: 2,345,410 sq km
land: 2,267,600 sq km
water: 77,810 sq km
Climate:
tropical hot and humid in equatorial river basin cooler and drier in southern highlands cooler and wetter in eastern highlands north of Equator - wet season [April to October], dry season [December to February] south of Equator - wet season [November to March], dry season [April to October]
Terrain:
vast central basin is a low-lying plateau mountains in east
Natural resources:
cobalt, copper, niobium, tantalum, petroleum, industrial and gem diamonds, gold, silver, zinc, manganese, tin, uranium, coal, hydropower, timber
Population:
66,514,506
note: estimates for this country explicitly take into account the effects of excess mortality due to AIDS this can result in lower life expectancy, higher infant mortality, higher death rates, lower population growth rates, and changes in the distribution of population by age and sex than would otherwise be expected [July 2008 est.]
Age structure:
0-14 years: 47.1% [male 15,711,817/female 15,594,449]
15-64 years: 50.4% [male 16,672,399/female 16,875,468]
65 years and over: 2.5% [male 674,766/female 985,607] [2008 est.]
Nationality:
noun: Congolese [singular and plural]
adjective: Congolese or Congo
Ethnic groups:
over 200 African ethnic groups of which the majority are Bantu the four largest tribes - Mongo, Luba, Kongo [all Bantu], and the Mangbetu-Azande [Hamitic] make up about 45% of the population
Languages:
French [official], Lingala [a lingua franca trade language], Kingwana [a dialect of Kiswahili or Swahili], Kikongo, Tshiluba
Capital:
name: Kinshasa
geographic coordinates: 4 19 S, 15 18 E
time difference: UTC+1 [six hours ahead of Washington, DC during Standard Time]
National holiday:
Independence Day, 30 June [1960]
GDP - composition by sector:
agriculture: 55%
industry: 11%
services: 34% [2000 est.]
Labor force:
15 million [2006 est.]
Budget:
revenues: $700 million
expenditures: $2 billion [2006 est.]
Agriculture - products:
coffee, sugar, palm oil, rubber, tea, quinine, cassava [tapioca], palm oil, bananas, root crops, corn, fruits wood products
Industries:
mining [diamonds, gold, copper, cobalt, coltan zinc], mineral processing, consumer products [including textiles, footwear, cigarettes, processed foods and beverages], cement, commercial ship repair
Exports:
$1.587 billion f.o.b. [2006]
Exports - commodities:
diamonds, copper, crude oil, coffee, cobalt
Exports - partners:
Belgium 29.3%, China 21%, Brazil 12.3%, Chile 7.8%, Finland 7.2%, US 4.9% [2006]
Imports:
$2.263 billion f.o.b. [2006]
Imports - commodities:
foodstuffs, mining and other machinery, transport equipment, fuels
Imports - partners:
South Africa 17.7%, Belgium 10.9%, France 8.5%, Zimbabwe 8.1%, Zambia 6.9%, Kenya 6.8%, Cote d'Ivoire 4.4% [2006]
Currency (code):
Congolese franc [CDF]
Exchange rates:
Congolese francs per US dollar - NA [2007], 464.69 [2006], 437.86 [2005], 401.04 [2004], 405.34 [2003]
Airports:
237 [2007]
Railways:
total: 5,138 km
narrow gauge: 3,987 km 1.067-m gauge [858 km electrified] 125 km 1.000-m gauge 1,026 km 0.600-m gauge [2006]
Merchant marine:
total: 1 ship [1000 GRT or over] 1,004 GRT/1,640 DWT
by type: petroleum tanker 1
foreign-owned: 1 [Congo, Republic of the 1] [2007]
Ports and terminals:
Banana, Boma, Bukavu, Bumba, Goma, Kalemie, Kindu, Kinshasa, Kisangani, Matadi, Mbandaka
Trade Leads of companies wanting to do business with Congo
Water Filling Machine Liquid Filling Machine - Nina790225 (
China ) - Offers to Sell and Export - Tue 08 Jul, 2008 6:29 am - product description cgf series full automatic washing filling and capping 3 in 1 machines this series of machines are used for packing the p...
Targeted Countries: Congo Burkina Faso

Automatic Quantitative Foaming Machine - Qifeixinfeng (
China ) - Offers to Sell and Export - Wed 09 Jul, 2008 6:43 am - it selected the plc entirely computer touching display controlling systemf from the materials putting in supplying of the steam thermostatic to the ...
Targeted Countries: Belgium Congo Estonia

Sell Steel Enamel Bathtub - Bathtubbest (
China ) - Offers to Sell and Export - Fri 11 Jul, 2008 8:12 am - trademark nanhai place of origin china hebei handle with or without as clients requirements material steel enamel length 1500 1700 widt...
Targeted Countries: Cyprus Congo Libya

Wire Straighten Cutting Machine - Conetcn (
China ) - Offers to Sell and Export - Thu 11 Sep, 2008 7:45 am - beijing conet science technology co ltd we specialize in 3d panel plant eps line wire mesh welding lines expanded metal mesh machi...
Targeted Countries: Congo Morocco Slovakia

Truck, Lorry, Tractor Unit, Scania, Daf, Volvo, Iveco, Man, Renualt, Hino All Used Vehicles - Truckandplantexports (
Ireland ) - Offers to Sell and Export - Sat 20 Dec, 2008 12:48 am - we can supply any make or year of truck fo the export market shipping and oaoer work all taken care off contact ne with whatever truck you require an...
Targeted Countries: Congo Gambia Kenya
Mercedes Actros Truck - Truckandplantexports (
Ireland ) - Offers to Sell and Export - Sat 20 Dec, 2008 6:33 pm - here we have a very clean 2002 mercedes truck tractor unit eps shift spot lights good tyres all round 454000km call or email for more info i can...
Targeted Countries: Cameroon Gambia Congo

Sell Base Oil Sn 500, Virgin - Sunimpexfze (
Uae ) - Offers to Sell and Export - Thu 08 Jan, 2009 10:16 am - base oils have various uses in industries •used as a raw material for producing wide variety lubricants •industrial burners •mould oil to h...
Targeted Countries: Chile Congo India

Looking For Pharmaceutical Distributors / Agent For Africa, Gulf And Arab Countries - Biosantee (
Usa ) - Wanted International Agents and Distributors - Sun 22 Feb, 2009 4:36 pm - we are worldwide based pharmaceutical companies and we are also representyating the different pharmaceutical companies of the world at present we ar...
Targeted Countries: Congo Cameroon
Fencing Pvc Garden Fence - ChangMing (
China ) - Offers to Sell and Export - Sun 12 Jul, 2009 9:38 am - fencing pvc garden fence we professional produce and export the fecing from 1992 looking forward to cooperation with you ...
Targeted Countries: Colombia Congo Cook Islands
Panneaux Solaire Avec 14 % De Rendement-prix Usine - HeliosPv (
China ) - Offers to Sell and Export - Wed 15 Jul, 2009 8:30 am - bonjour cher ahcteurs notre usine de fabrication de panneaux solaire met en vente divers gammes de panneayx solaires monocristallin et polycristall...
Targeted Countries: France Belgium Congo
High Qulaity Solar Panels Monocrystallin-polycristallin-panneaux Solaire - HeliosPv (
China ) - Offers to Sell and Export - Mon 27 Jul, 2009 4:27 am - bonjour mr notre usine de production helios photovoltque helios pv développe ses activités sur le continent européen et nous sommes à la recherche...
Targeted Countries: Cameroon Congo Cote DIvoire
Drill Pipe Api 5d Drilling Tools - eddieliu (
China ) - Offers to Sell and Export - Fri 31 Jul, 2009 7:31 am - api 5d amp amp 7 standard drill pipe outsider diameter 2 3 8 quot 3 1 2 quot 4 quot 5 1 2 quot 6 5 8 quot type eu iu ieu grade e75 g...
Targeted Countries: Congo Colombia Azerbaijan