Fiji Country Data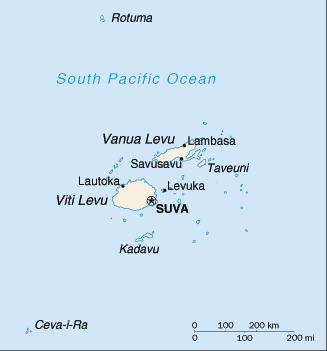 Area:
total: 18,270 sq km
land: 18,270 sq km
water: 0 sq km
Climate:
tropical marine only slight seasonal temperature variation
Terrain:
mostly mountains of volcanic origin
Natural resources:
timber, fish, gold, copper, offshore oil potential, hydropower
Population:
931,741 [July 2008 est.]
Age structure:
0-14 years: 30.6% [male 145,430/female 139,498]
15-64 years: 64.8% [male 302,460/female 301,344]
65 years and over: 4.6% [male 19,413/female 23,596] [2008 est.]
Nationality:
noun: Fijian[s]
adjective: Fijian
Ethnic groups:
Fijian 54.8% [predominantly Melanesian with a Polynesian admixture], Indian 37.4%, other 7.9% [European, other Pacific Islanders, Chinese] [2005 estimate]
Languages:
English [official], Fijian [official], Hindustani
Capital:
name: Suva [on Viti Levu]
geographic coordinates: 18 08 S, 178 25 E
time difference: UTC+12 [17 hours ahead of Washington, DC during Standard Time]
National holiday:
Independence Day, second Monday of October [1970]
GDP - composition by sector:
agriculture: 8.9%
industry: 13.5%
services: 77.6% [2004 est.]
Labor force:
117,500 [2006 est.]
Budget:
revenues: $1.363 billion
expenditures: $1.376 billion [2006]
Agriculture - products:
sugarcane, coconuts, cassava [tapioca], rice, sweet potatoes, bananas cattle, pigs, horses, goats fish
Industries:
tourism, sugar, clothing, copra, gold, silver, lumber, small cottage industries
Exports:
$1.202 billion f.o.b. [2006]
Exports - commodities:
sugar, garments, gold, timber, fish, molasses, coconut oil
Exports - partners:
US 16.8%, Australia 13.9%, UK 13.5%, Japan 5.3%, Samoa 4.7%, Tonga 4.1% [2006]
Imports:
$3.12 billion c.i.f. [2006]
Imports - commodities:
manufactured goods, machinery and transport equipment, petroleum products, food, chemicals
Imports - partners:
Singapore 28.8%, Australia 23.3%, NZ 16.8%, China 4.7% [2006]
Currency (code):
Fijian dollar [FJD]
Exchange rates:
Fijian dollars per US dollar - NA [2007], 1.7313 [2006], 1.691 [2005], 1.7331 [2004], 1.8958 [2003]
Airports:
28 [2007]
Railways:
total: 597 km
narrow gauge: 597 km 0.600-m gauge
note: belongs to the government-owned Fiji Sugar Corporation used to haul sugarcane during harvest season [May to December] [2006]
Merchant marine:
total: 8 ships [1000 GRT or over] 17,376 GRT/8,788 DWT
by type: passenger 3, passenger/cargo 3, roll on/roll off 2
foreign-owned: 1 [Australia 1] [2007]
Ports and terminals:
Lautoka, Suva
Trade Leads of companies wanting to do business with Fiji

Anthurium Fresh / Cut Flowers Available For Export - bala5148 (
India ) - Offers to Sell and Export - Mon 13 Oct, 2008 1:15 am - frsh cut flowers anthurium tropical red varierty avilable from india 1000 pcs a week at a reasonable price contact amp lt amp gt ...
Targeted Countries: UAE Australia Fiji

Fashion Watches, Fashion Accessory - reimahwatch (
China ) - Offers to Sell and Export - Fri 08 May, 2009 6:53 am - we are a watch manufacture for over 10 years pls check out our website hope you are interested in our watches pls contact with me if you have any qu...
Targeted Countries: Australia Fiji Israel

Reimah Watch Oem Or Odm - reimahwatch (
China ) - Offers to Sell and Export - Mon 01 Jun, 2009 8:17 am - 1 brand reimah watches 2 movement advanced japan movement 3 function timing calendar waterproof shockproof antimagnetic ...
Targeted Countries: Fiji Iran UAE

Summer Outdoor Furniture Set, Made From Solid Teak - andana (
Indonesia ) - Offers to Sell and Export - Fri 15 Jan, 2010 2:15 am - available in ab and bc sapwood grade with natural and teak oil finished beautiful teak outdoor set made from selected teak warranty quality...
Targeted Countries: Fiji Finland France

Java Dining Chair And Dining Table Made From Solid Mahogany Wood - andana (
Indonesia ) - Offers to Sell and Export - Mon 01 Feb, 2010 1:06 pm - ndf 030 java dining set consist of 4 dining chair and 1 rec dining table size 90 x 120 x 76 cm table in knock down system we warranty quali...
Targeted Countries: Falkland Islands Faroe Islands Fiji

Rattan Furniture , Fabion Set With Competitive Price - andana (
Indonesia ) - Offers to Sell and Export - Tue 02 Feb, 2010 4:55 am - fabion set made from rattan simple set with competitive price color available gliss brown medium brown and yellow honey warranty quality...
Targeted Countries: Finland Fiji France

Teak Bali Wheels Decking Steamer Chair.indonesia.hotel, Garden And Beach Furniture - andana (
Indonesia ) - Offers to Sell and Export - Tue 23 Feb, 2010 12:59 am - teak bali wheels decking steamer chair with five position made from kiln dry teak ab grade using good brass and bc grade sapwood using stand...
Targeted Countries: Fiji Finland France

Modern And Minimalist Chest 5 Drawers Dresser Cabinet Mahogany Teak Wood Indoor Furniture - andana (
Indonesia ) - Offers to Sell and Export - Mon 15 Mar, 2010 12:40 am - we produced various furniture both indoor and outdoor with nice design we also accept any design from clients custom made modern and minimali...
Targeted Countries: France Finland Fiji

Huntsman Curve Back Garden Bench 150cm Knock Down Teak Outdoor Furniture - andana (
Indonesia ) - Offers to Sell and Export - Tue 13 Apr, 2010 6:13 am - atb 028 available in ab and bc sapwood grade with natural and teak oil finished smooth finishing surface suitable for garden hotel swimmin...
Targeted Countries: Faroe Islands Fiji Finland

Reinforcing Wire Mesh For Sale In Australia And New Zeland - Apankai (
China ) - Offers to Sell and Export - Sat 24 Apr, 2010 6:32 am - we can manufacture a range of reinforcing wire mesh bars are the same thickness and spaced 200mm apart in both directions 200mm square patter...
Targeted Countries: Australia New Zealand Fiji

Black Tie Wire, Wire Loop Ties For Australia, New Zeland Building Industry - Apankai (
China ) - Offers to Sell and Export - Mon 21 Jun, 2010 9:03 am - black tie wire 1 6mmx 80mtr belt pack 1 66mm x 80mtr belt pack loose 1 66mm x 80mtr belt pack pallet 3 156mm x 50kg coil wire loop tie...
Targeted Countries: Australia New Zealand Fiji

Lazy Relax Arm Chair From Rattan Woven Furniture Cirebon Java Indonesia - andana (
Indonesia ) - Offers to Sell and Export - Mon 05 Jul, 2010 11:47 am - arc 002 = amp gt king rattan blue arm chair made from rattan fitrit and mahogany frame nice for waiting room lobby hotel tv room etc finishing ...
Targeted Countries: Faroe Islands Fiji Finland