Guinea Bissau Country Data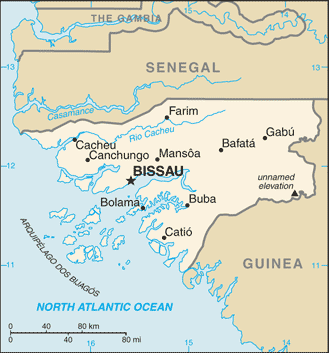 Area:
total: 36,120 sq km
land: 28,000 sq km
water: 8,120 sq km
Climate:
tropical generally hot and humid monsoonal-type rainy season [June to November] with southwesterly winds dry season [December to May] with northeasterly harmattan winds
Terrain:
mostly low coastal plain rising to savanna in east
Natural resources:
fish, timber, phosphates, bauxite, clay, granite, limestone, unexploited deposits of petroleum
Population:
1,503,182 [July 2008 est.]
Age structure:
0-14 years: 41% [male 307,353/female 308,726]
15-64 years: 55.9% [male 404,747/female 436,245]
65 years and over: 3.1% [male 18,819/female 27,292] [2008 est.]
Nationality:
noun: Guinean[s]
adjective: Guinean
Ethnic groups:
African 99% [includes Balanta 30%, Fula 20%, Manjaca 14%, Mandinga 13%, Papel 7%], European and mulatto less than 1%
Languages:
Portuguese [official], Crioulo, African languages
Capital:
name: Bissau
geographic coordinates: 11 51 N, 15 35 W
time difference: UTC 0 [5 hours ahead of Washington, DC during Standard Time]
National holiday:
Independence Day, 24 September [1973]
GDP - composition by sector:
agriculture: 62%
industry: 12%
services: 26% [1999 est.]
Labor force:
480,000 [1999]
Budget:
revenues:
expenditures:
Agriculture - products:
rice, corn, beans, cassava [tapioca], cashew nuts, peanuts, palm kernels, cotton timber fish
Industries:
agricultural products processing, beer, soft drinks
Exports:
$133 million f.o.b. [2006]
Exports - commodities:
cashew nuts, shrimp, peanuts, palm kernels, sawn lumber
Exports - partners:
India 76.1%, Nigeria 18.1%, Italy 1.4% [2006]
Imports:
$200 million f.o.b. [2006]
Imports - commodities:
foodstuffs, machinery and transport equipment, petroleum products
Imports - partners:
Portugal 18.7%, Senegal 16.3%, Italy 13%, Pakistan 4.5% [2006]
Currency (code):
Communaute Financiere Africaine franc [XOF] note - responsible authority is the Central Bank of the West African States
Exchange rates:
Communaute Financiere Africaine francs [XOF] per US dollar - 493.51 [2007], 522.59 [2006], 527.47 [2005], 528.29 [2004], 581.2 [2003]
note: since 1 January 1999, the XOF franc has been pegged to the euro at a rate of 655.957 XOF francs per euro
Airports:
27 [2007]
Ports and terminals:
Bissau, Buba, Cacheu, Farim