Korea Country Data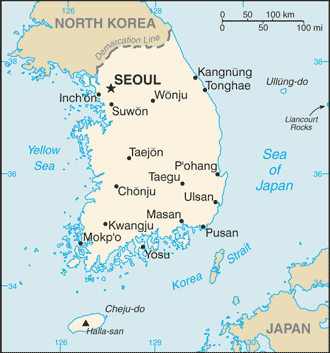 Area:
total: 98,480 sq km
land: 98,190 sq km
water: 290 sq km
Climate:
temperate, with rainfall heavier in summer than winter
Terrain:
mostly hills and mountains wide coastal plains in west and south
Natural resources:
coal, tungsten, graphite, molybdenum, lead, hydropower potential
Population:
49,232,844 [July 2008 est.]
Age structure:
0-14 years: 17.7% [male 4,579,018/female 4,157,631]
15-64 years: 72.3% [male 18,150,771/female 17,464,610]
65 years and over: 9.9% [male 1,997,032/female 2,883,782] [2008 est.]
Nationality:
noun: Korean[s]
adjective: Korean
Ethnic groups:
homogeneous [except for about 20,000 Chinese]
Languages:
Korean, English widely taught in junior high and high school
Capital:
name: Seoul
geographic coordinates: 37 33 N, 126 59 E
time difference: UTC+9 [14 hours ahead of Washington, DC during Standard Time]
National holiday:
Liberation Day, 15 August [1945]
GDP - composition by sector:
agriculture: 3%
industry: 39.4%
services: 57.6% [2007 est.]
Labor force:
24.22 million [2007 est.]
Budget:
revenues: $248 billion
expenditures: $246.5 billion [2007 est.]
Agriculture - products:
rice, root crops, barley, vegetables, fruit cattle, pigs, chickens, milk, eggs fish
Industries:
electronics, telecommunications, automobile production, chemicals, shipbuilding, steel
Exports:
$371.5 billion f.o.b. [2007]
Exports - commodities:
semiconductors, wireless telecommunications equipment, motor vehicles, computers, steel, ships, petrochemicals
Exports - partners:
China 22%, US 12.5%, Japan 7.1%, Hong Kong 5% [2007]
Imports:
$356.8 billion f.o.b. [2007]
Imports - commodities:
machinery, electronics and electronic equipment, oil, steel, transport equipment, organic chemicals, plastics
Imports - partners:
China 17.7%, Japan 16%, US 10.7%, Saudi Arabia 5.9%, UAE 4.2% [2007]
Currency (code):
South Korean won [KRW]
Exchange rates:
South Korean won per US dollar - 929.2 [2007], 954.8 [2006], 1,024.1 [2005], 1,145.3 [2004], 1,191.6 [2003]
Airports:
105 [2007]
Railways:
total: 3,472 km
standard gauge: 3,472 km 1.435-m gauge [1,342 km electrified] [2006]
Merchant marine:
total: 738 ships [1000 GRT or over] 10,636,466 GRT/17,371,943 DWT
by type: bulk carrier 187, cargo 202, carrier 1, chemical tanker 119, container 81, liquefied gas 26, passenger 5, passenger/cargo 21, petroleum tanker 57, refrigerated cargo 19, roll on/roll off 8, specialized tanker 4, vehicle carrier 8
foreign-owned: 22 [China 2, France 8, Japan 1, Sweden 2, UK 1, US 7, Vietnam 1]
registered in other countries: 386 [Belize 4, Cambodia 29, China 1, Cyprus 2, Greece 2, Honduras 6, Hong Kong 6, Indonesia 1, Liberia 4, Malta 3, Marshall Islands 3, Netherlands 1, Panama 316, Russia 1, Singapore 7, unknown 4] [2007]
Ports and terminals:
Inch'on, P'ohang, Pusan, Ulsan
Trade Leads of companies wanting to do business with Korea

Hydrocarbon Resin - Thankyouchemhenanco (
China ) - Offers to Sell and Export - Tue 25 Mar, 2008 6:05 am - with years of experience we specialize in designing manufacturing and selling outdoor products such as c9 hydrocarbon petroleum resin c5 c9 copoly...
Targeted Countries: Iran Argentina Korea

Sell Pof Shrink Film, Packing Material - Great Silver Pack (
China ) - Offers to Sell and Export - Tue 18 Mar, 2008 6:50 am - product information amp #65306 environmentally friendly type pof 5 layer co extruded polyolefin shrink film is now the most widely used shrink ...
Targeted Countries: Korea Singapore

Sap Gel For Diaper - Vital Reap Sdn Bhd (
Malaysia ) - Offers to Buy and Import - Thu 27 Mar, 2008 4:18 am - we are looking for the sap gel in the application on the diaper also any manufacturer company which allow us to have our own brand for the baby diape...
Targeted Countries: Taiwan China Korea
C5 / C9 Copolymerization Hydrocarbon Resin - Thankyouchemhenanco (
China ) - Offers to Sell and Export - Thu 03 Apr, 2008 2:12 am - product introduction c5 c9 copolymerization hydrocarbon petroleum resins whose materials are c5 fration and c9 fraction is a new product to promo...
Targeted Countries: Australia Korea Thailand
Barbecue Grill Mesh With Low-carbon Steel Wire Or Stainless Steel Crimped Wire Mesh. - Jxathena (
China ) - Offers to Sell and Export - Wed 09 Apr, 2008 7:29 am - 1 materials and technology it is made through cutting folding border welding craft and so on with low carbon steel wire crimped wire mesh the ...
Targeted Countries: Korea Japan
We Want To Sell Plywood Wit High Quality - HongPhatCompany (
Vietnam ) - Offers to Sell and Export - Sun 27 Apr, 2008 4:10 pm - dear sir we are hong phat export import service co and ltd a exporter for item of woods in viet nam these products competitive price high...
Targeted Countries: Turkey Korea
Sell Basic Chrome Sulphate - HenanHarvest (
China ) - Offers to Sell and Export - Tue 06 May, 2008 1:04 am - description basic chrome sulphate cas no 64093 79 4 molecular formula amp #65306 cr oh so4 physical and chemical property dark gree...
Targeted Countries: Germany Korea

Mushrooms-king Oyster / Pleurotus Nebrodensis Fresh, Dried And Canned Products - Chinajunchuang (
China ) - Offers to Sell and Export - Wed 07 May, 2008 11:34 pm - we sell fresh dried and canned king oyster pleurotus nebrodensis pleurotus nebrodensisís scientific name is pleurotus ferulae it has very high...
Targeted Countries: Japan Korea

Raw Cotton Raw Cotton West-comber Noil-web Comber-twoll Cutting-cotton Linter E.t.c - Shah Brothers (
Pakistan ) - Wanted International Agents and Distributors - Sat 10 May, 2008 6:58 am - we seel cotton related goods raw cotton raw cotton west comber noil web comber twoll cutting cotton linter e t c ...
Targeted Countries: China Korea
Sell Printing Grade Sodium Alginate - Niuniu1011 (
China ) - Offers to Sell and Export - Sun 25 May, 2008 12:22 am - widely applied in many industries including printing dyeing textile and paper making our tech grade sodium alginate is grouped as low medium hi...
Targeted Countries: India Pakistan Korea
Sell Food Grade Sodium Alginate - Niuniu1011 (
China ) - Offers to Sell and Export - Sun 25 May, 2008 12:32 am - food grade sodium alginate is widely applied in dentistry cosmetic noodle bread salads pudding cream yoghurt jam and frozen food etc accord...
Targeted Countries: India Pakistan Korea

Supply Perforated Metal Sheet Mesh - Yhywiremesh08 (
China ) - Offers to Sell and Export - Sun 25 May, 2008 1:23 am - perforated metal screen sheet is mainly used in oil field drilling mine screening engineering sifting of grains decorations and designs of build...
Targeted Countries: Australia Korea USA