Mali Country Data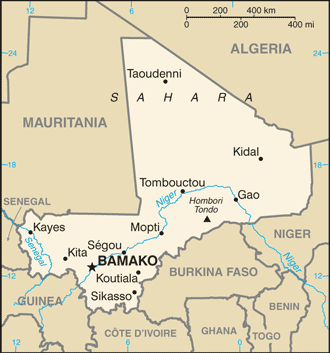 Area:
total: 1.24 million sq km
land: 1.22 million sq km
water: 20,000 sq km
Climate:
subtropical to arid hot and dry [February to June] rainy, humid, and mild [June to November] cool and dry [November to February]
Terrain:
mostly flat to rolling northern plains covered by sand savanna in south, rugged hills in northeast
Natural resources:
gold, phosphates, kaolin, salt, limestone, uranium, gypsum, granite, hydropower
note: bauxite, iron ore, manganese, tin, and copper deposits are known but not exploited
Population:
12,324,029 [July 2008 est.]
Age structure:
0-14 years: 48.2% [male 3,004,003/female 2,937,138]
15-64 years: 48.7% [male 2,976,314/female 3,028,433]
65 years and over: 3.1% [male 150,597/female 227,544] [2008 est.]
Nationality:
noun: Malian[s]
adjective: Malian
Ethnic groups:
Mande 50% [Bambara, Malinke, Soninke], Peul 17%, Voltaic 12%, Songhai 6%, Tuareg and Moor 10%, other 5%
Languages:
French [official], Bambara 80%, numerous African languages
Capital:
name: Bamako
geographic coordinates: 12 39 N, 8 00 W
time difference: UTC 0 [5 hours ahead of Washington, DC during Standard Time]
National holiday:
Independence Day, 22 September [1960]
GDP - composition by sector:
agriculture: 45%
industry: 17%
services: 38% [2001 est.]
Labor force:
5.4 million [2007 est.]
Budget:
revenues: $1.5 billion
expenditures: $1.8 billion [2006 est.]
Agriculture - products:
cotton, millet, rice, corn, vegetables, peanuts cattle, sheep, goats
Industries:
food processing construction phosphate and gold mining
Exports:
$294 million f.o.b. [2006]
Exports - commodities:
cotton, gold, livestock
Exports - partners:
China 26.8%, Germany 24.9%, Thailand 7.1%, Taiwan 4.9%, Bangladesh 4% [2006]
Imports:
$2.358 billion f.o.b. [2006]
Imports - commodities:
petroleum, machinery and equipment, construction materials, foodstuffs, textiles
Imports - partners:
France 12.8%, Senegal 12.2%, Cote d'Ivoire 10.5% [2006]
Currency (code):
Communaute Financiere Africaine franc [XOF] note - responsible authority is the Central Bank of the West African States
Exchange rates:
Communaute Financiere Africaine francs [XOF] per US dollar - 493.51 [2007], 522.59 [2006], 527.47 [2005], 528.29 [2004], 581.2 [2003]
note: since 1 January 1999, the XOF franc has been pegged to the euro at a rate of 655.957 XOF francs per euro
Airports:
29 [2007]
Railways:
total: 729 km
narrow gauge: 729 km 1.000-m gauge [2006]
Ports and terminals:
Koulikoro
Trade Leads of companies wanting to do business with Mali
Ultrasonic Plastic Welding Machine, Pipe Welding Machine - Sallymai (
China ) - Offers to Sell and Export - Thu 23 Oct, 2008 7:47 am - this machine is desige for the toothpaste cosmetic medical food etc soft pipe sealing it is easy to operation and with the good quality sp...
Targeted Countries: Indonesia India Mali
Omejo Internal Memory 4gb Spy Shaver Camera Dvr - omejo (
China ) - Offers to Sell and Export - Wed 12 Aug, 2009 11:28 pm - it does not need any external plug in card built in memory 4gb itself can work up to 7 8hours there is time date stamp for the record you can ge...
Targeted Countries: USA Malta Mali
Lexus 400 Special Dual Zone Car Dvd Media Player Tv 6.2 Inch Bluetooth Ipod Gps Navi - suav (
China ) - Offers to Sell and Export - Sat 10 Oct, 2009 3:27 am - product description model no cav 8070ta * 6 5 quot 800*480 digital high resolution touchscreen * steering wheel control * support rds...
Targeted Countries: Sweden Norway Mali
Opel Insignia Gps Autoradio Dvd Player Mit Touchscreen, Tv, Bluetooth, Ipod Eingang - suav (
China ) - Offers to Sell and Export - Sat 28 Nov, 2009 7:41 am - 7 inch motorisierter touchscreen tft lcd dvd player spezifikation schirmgrösse 7 zoll voll manueller touchscreen voll motorisi...
Targeted Countries: Germany Austria Mali
Toyota Rav4 Navigator Dvd Gps Navi Autoradio Tv Dvb-t - suav (
China ) - Offers to Sell and Export - Thu 03 Dec, 2009 8:17 am - navigation gps einheit ist im autoradio integriert also es muss keine extra navi box im auto eingebaut werden es kann auch alles über das di...
Targeted Countries: Romania Saint Pierre and Miquelon Mali

At Set-020, Teak Folding Set For Outdoor And Indoor - andana (
Indonesia ) - Offers to Sell and Export - Mon 18 Jan, 2010 7:44 am - teak folding set made from teak from tropical country indonesia as we knew that teak is the best wood especially for outdoor with natural and te...
Targeted Countries: Maldives Mali Malta

Woven Furniture, Dining Set Made From Banana Abaca Leaf Combined With Solid Mahogany Table - andana (
Indonesia ) - Offers to Sell and Export - Tue 02 Feb, 2010 12:22 pm - ar set 053 dining set solo consist of 4 pcs dining chair made from banana abaca combined with 1 pc mahogany dining table 90 x 120 x 75 cm nice co...
Targeted Countries: Malaysia Maldives Mali
Teak Rectangular Table And Stacking Chair. Outdoor And Indoor Furniture. - andana (
Indonesia ) - Offers to Sell and Export - Thu 25 Feb, 2010 11:56 am - rectangular table and stacking chair in set made from selected teak nice set from tropical country indonesia content of 6 pcs stacking chair w ...
Targeted Countries: Maldives Mali Malta

As-019 Chest 3 Drawers Mahogany And Teak Furniture Minimalist And Modern Style - andana (
Indonesia ) - Offers to Sell and Export - Mon 08 Mar, 2010 8:42 am - as 019 chest drawer cabinet with 3 drawers made from mahogany wood with kiln dry already another wooden indoor cabinet from us dimension 80 x...
Targeted Countries: Marshall Islands Malta Mali

Atm-07 Teak Hole Stand Tray Outdoor Furniture Garden Dining Set - andana (
Indonesia ) - Offers to Sell and Export - Tue 13 Apr, 2010 11:44 am - teak hole stand tray guarantee quality with competitive price competitive price fob semarang port indonesia us 10 00 14 00 pc in ab and bc ...
Targeted Countries: Mali Malta Marshall Islands

Another Rattan Boat Bed Woven Indoor Furniture Java Indonesia - andana (
Indonesia ) - Offers to Sell and Export - Wed 07 Jul, 2010 2:07 am - with minimalist style it is nice and beautiful for bedroom terrace amp amp hotels dimension available in queen and king size woven rattan boa...
Targeted Countries: Malaysia Maldives Mali
Helicals Welded Gabion Box - HLWireMesh (
China ) - Offers to Sell and Export - Wed 11 Aug, 2010 1:59 am - helicals welded gabion box the wire diameter ranges from 2 0mm to 4 0mm for those pvc coated hexagonal wire netting the outside diameter ranges f...
Targeted Countries: Mali