Mayotte Country Data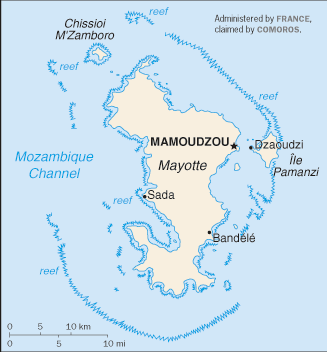 Area:
total: 374 sq km
land: 374 sq km
water: 0 sq km
Climate:
tropical marine hot, humid, rainy season during northeastern monsoon [November to May] dry season is cooler [May to November]
Terrain:
generally undulating, with deep ravines and ancient volcanic peaks
Natural resources:
NEGL
Population:
216,306 [July 2008 est.]
Age structure:
0-14 years: 45.5% [male 49,521/female 48,996]
15-64 years: 52.7% [male 61,267/female 52,641]
65 years and over: 1.8% [male 1,971/female 1,910] [2008 est.]
Nationality:
noun: Mahorais [singular and plural]
adjective: Mahoran
Ethnic groups:
NA
Languages:
Mahorian [a Swahili dialect], French [official language] spoken by 35% of the population
Capital:
name: Mamoudzou
geographic coordinates: 12 46 S, 45 13 E
time difference: UTC+3 [8 hours ahead of Washington, DC during Standard Time]
National holiday:
Bastille Day, 14 July [1789]
GDP - composition by sector:
agriculture: NA%
industry: NA%
services: NA%
Labor force:
44,560 [2002]
Budget:
revenues: $420 million
expenditures: $394 million [2005]
Agriculture - products:
vanilla, ylang-ylang [perfume essence], coffee, copra, fish, livestock
Industries:
newly created lobster and shrimp industry, construction
Exports:
$6.5 million f.o.b. [2005]
Exports - commodities:
ylang-ylang [perfume essence], vanilla, copra, coconuts, coffee, cinnamon
Exports - partners:
France 43%, Comoros 36%, Reunion 15% [2006]
Imports:
$341 million f.o.b. note - excludes petroleum imports [2005]
Imports - commodities:
food, machinery and equipment, transportation equipment, metals, chemicals
Imports - partners:
France 49%, Seychelles 8.8%, China 4.1% [2006]
Currency (code):
euro [EUR]
Exchange rates:
euros per US dollar - 0.7345 [2007], 0.7964 [2006], 0.8041 [2005], 0.8054 [2004], 0.886 [2003]
Airports:
1 [2007]
Ports and terminals:
Dzaoudzi
Trade Leads of companies wanting to do business with Mayotte

Stainless Steel Pipe - GreatPipe (
China ) - Offers to Sell and Export - Thu 21 Dec, 2017 2:49 am - industrial stainless steel pipe can be divided into 304l 304 310 303 302 301 202 201 410 420 430 standards industrial stainless steel pipe...
Targeted Countries: Mayotte Sudan Vietnam

Common Rail Injector Nozzle Dlla153p958 - leechinalutong (
China ) - Offers to Sell and Export - Sat 02 Jun, 2018 3:08 am - china lutong parts plant is a professional oem amp amp aftermarket parts supplier which specialized in high quality diesel fuel injection parts ...
Targeted Countries: Liechtenstein Mayotte New Zealand

Silicone Coated Fiberglass Braided Heat Resistant Insulating Sleeve - pkfiresleeve (
China ) - Offers to Sell and Export - Fri 01 Nov, 2019 3:57 am - silicone coated fiberglass braided heat resistant insulating sleeve silicone fiberglass ultra sleeve high temperature sleeving is a protective slee...
Targeted Countries: Australia Cook Islands Mayotte