Myanmar Country Data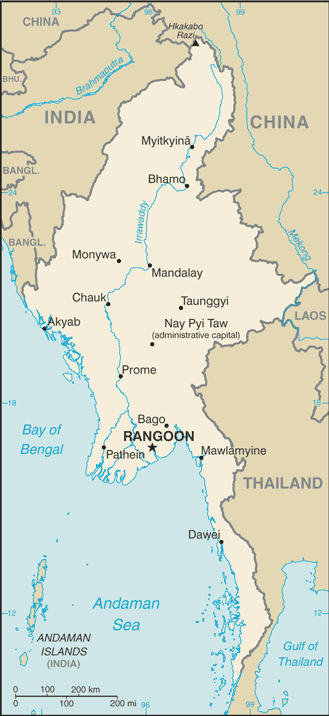 Area:
total: 678,500 sq km
land: 657,740 sq km
water: 20,760 sq km
Climate:
tropical monsoon cloudy, rainy, hot, humid summers [southwest monsoon, June to September] less cloudy, scant rainfall, mild temperatures, lower humidity during winter [northeast monsoon, December to April]
Terrain:
central lowlands ringed by steep, rugged highlands
Natural resources:
petroleum, timber, tin, antimony, zinc, copper, tungsten, lead, coal, marble, limestone, precious stones, natural gas, hydropower
Population:
47,758,181
note: estimates for this country take into account the effects of excess mortality due to AIDS this can result in lower life expectancy, higher infant mortality, higher death rates, lower population growth rates, and changes in the distribution of population by age and sex than would otherwise be expected [July 2008 est.]
Age structure:
0-14 years: 25.7% [male 6,236,484/female 6,038,576]
15-64 years: 68.9% [male 16,300,380/female 16,627,045]
65 years and over: 5.4% [male 1,098,344/female 1,457,352] [2008 est.]
Nationality:
noun: Burmese [singular and plural]
adjective: Burmese
Ethnic groups:
Burman 68%, Shan 9%, Karen 7%, Rakhine 4%, Chinese 3%, Indian 2%, Mon 2%, other 5%
Languages:
Burmese, minority ethnic groups have their own languages
Capital:
name: Rangoon [Yangon]
geographic coordinates: 16 48 N, 96 09 E
time difference: UTC+6.5 [11.5 hours ahead of Washington, DC during Standard Time]
note: Nay Pyi Taw is administrative capital
National holiday:
Independence Day, 4 January [1948] Union Day, 12 February [1947]
GDP - composition by sector:
agriculture: 50%
industry: 17.6%
services: 32.4% [2007 est.]
Labor force:
29.26 million [2007 est.]
Budget:
revenues: NA
expenditures: NA [2007 est.]
Agriculture - products:
rice, pulses, beans, sesame, groundnuts, sugarcane hardwood fish and fish products
Industries:
agricultural processing wood and wood products copper, tin, tungsten, iron cement, construction materials pharmaceuticals fertilizer natural gas garments, jade and gems
Exports:
$6.346 billion f.o.b.
note: official export figures are grossly underestimated due to the value of timber, gems, narcotics, rice, and other products smuggled to Thailand, China, and Bangladesh [2007 est.]
Exports - commodities:
natural gas, wood products, pulses, beans, fish, rice, clothing, jade and gems
Exports - partners:
Thailand 48.8%, India 12.7%, China 5.2%, Japan 5.2% [2006]
Imports:
$3.624 billion f.o.b.
note: import figures are grossly underestimated due to the value of consumer goods, diesel fuel, and other products smuggled in from Thailand, China, Malaysia, and India [2007 est.]
Imports - commodities:
fabric, petroleum products, fertilizer, plastics, machinery, transport equipment cement, construction materials, crude oil food products, edible oil
Imports - partners:
China 35.1%, Thailand 22.1%, Singapore 16.4%, Malaysia 4.8% [2006]
Currency (code):
kyat [MMK]
Exchange rates:
kyats per US dollar - 1,296 [2007], 1,280 [2006], 5.761 [2005], 5.7459 [2004], 6.0764 [2003]
note: unofficial exchange rates ranged in 2004 from 815 kyat/US dollar to nearly 970 kyat/US dollar, and by yearend 2005, the unofficial exchange rate was 1,075 kyat/US dollar data shown for 2003-05 are official exchange rates
Airports:
86 [2007]
Railways:
total: 3,955 km
narrow gauge: 3,955 km 1.000-m gauge [2006]
Merchant marine:
total: 33 ships [1000 GRT or over] 364,447 GRT/549,310 DWT
by type: bulk carrier 7, cargo 20, passenger 2, passenger/cargo 3, specialized tanker 1
foreign-owned: 8 [Germany 5, Japan 3] [2007]
Ports and terminals:
Moulmein, Rangoon, Sittwe
Trade Leads of companies wanting to do business with Myanmar
Sell Stone Crushing Plant, Crusher Plant, Stone Production Line, Stone Crushing And Screeing Line - Shchanglei (
China ) - Offers to Sell and Export - Sat 27 Sep, 2008 2:55 am - sell stone crushing plant crusher plant stone production line stone crushing and screeing line stone crushing production line ballast crushing p...
Targeted Countries: Ghana Indonesia Myanmar
Omejo Capture Picture Function Resolution 1280x960 Record Video Function Resolution 640x480 30fps - omejo (
China ) - Offers to Sell and Export - Wed 05 Aug, 2009 12:18 am - 1 video resolution 640x480 2 picture resolution 1280x960 3 frame 30fps 4 video format avi 5 picture format jpg 6 memory 2gb 4g...
Targeted Countries: Belarus Myanmar Madagascar
Omejo Sell 4gb Mini Video Recording Pen Spy Camera Cam Pen Dvr New - omejo (
China ) - Offers to Sell and Export - Sun 16 Aug, 2009 1:15 am - 100% brand new video format avi 640 w x 480 h pixels physical pixel array pixels 0 3mp video color full color with 4gb flash memor...
Targeted Countries: Armenia Myanmar Cameroon
Chevrolet Cruze Special In Car Dvd Player Stereo Gps Satellite Navi Tv, Ipod - suav (
China ) - Offers to Sell and Export - Sat 10 Oct, 2009 9:00 am - product description model no cav 8070cz 7 inch 16 9 digital high definition lcd monitor resolution amp #65306 800x480 dvd divx vcd ...
Targeted Countries: Italy Myanmar Ireland
Opel Insignia Special Auto Video Audio 7inch Touch Screen Moniter Car Dvd Player With Gps Navi - suav (
China ) - Offers to Sell and Export - Fri 04 Dec, 2009 11:53 am - opel insignia special auto video audio 7inch touch screen moniter car dvd player with gps navi 7inch 16 9 tft wide lcd monitor touch screen...
Targeted Countries: France Myanmar Finland

Security Fence - JilianxinchengIndustry (
China ) - Offers to Sell and Export - Sat 05 Dec, 2009 4:35 am - common modem welded panel fence panel post and fastenings using high quality iron rod as raw material the welded panel after galvanizatio...
Targeted Countries: Antigua and Barbuda Korea Myanmar
Myanmar And Cambodia Fcl Shipping Rate From Shenzhen, China - Charles (
China ) - International Shipping - Sun 20 Dec, 2009 8:34 am - myanmar amp amp cambodia shipping rate ocean freight fcl rate pol shekou shenzhen china via hongkong schedule shekou cy closing time ...
Targeted Countries: Cambodia Myanmar

Atc-007 Teak Reclining Set From Indonesia - andana (
Indonesia ) - Offers to Sell and Export - Mon 18 Jan, 2010 10:07 am - atc 007 teak reclining set made from selected teak for outdoor and indoor furniture nice set from beautiful tropical country indonesia content...
Targeted Countries: Myanmar Namibia Nepal

Banana Leaf Abaca Round Dining Table And Chair Combined With Mahogany Frame - andana (
Indonesia ) - Offers to Sell and Export - Wed 03 Feb, 2010 2:35 am - ar set 004 banana abaca round dining table and chair in setm unique dining set made from banana abaca combined with mahogany frame consist of 4...
Targeted Countries: Myanmar Namibia Nauru

Stacking Chair Audia Made From Kiln Dry Teak Java Indonesia Garden And Indoor Furniture - andana (
Indonesia ) - Offers to Sell and Export - Fri 26 Feb, 2010 6:06 am - we produced many items for teak outdoor and wooden indoor some of new design not listed in our online catalog so contact us teak audia stackin...
Targeted Countries: Mozambique Myanmar Namibia

As-016 Mahogany Rectangular Extension Table 120-160 Cm Indoor Furniture - andana (
Indonesia ) - Offers to Sell and Export - Mon 08 Mar, 2010 8:24 am - we produced various furniture both indoor and outdoor with nice design we also accept any design from clients custom made for further information...
Targeted Countries: Nauru Namibia Myanmar
Atm-020 Teak Umbrella 9 Feet Green, White, Brown, Red And Blue Fabric Outdoor Indoor Furniture - andana (
Indonesia ) - Offers to Sell and Export - Tue 13 Apr, 2010 12:00 pm - we produced many items for teak outdoor and wooden indoor some of new design not listed in our online catalog so contact us teak garden umbrella...
Targeted Countries: Myanmar Namibia Nauru