Paraguay Country Data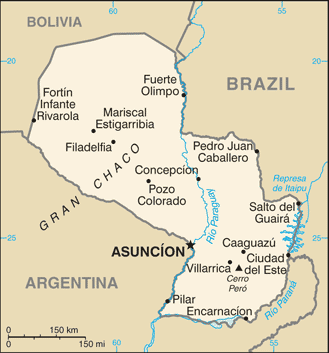 Area:
total: 406,750 sq km
land: 397,300 sq km
water: 9,450 sq km
Climate:
subtropical to temperate substantial rainfall in the eastern portions, becoming semiarid in the far west
Terrain:
grassy plains and wooded hills east of Rio Paraguay Gran Chaco region west of Rio Paraguay mostly low, marshy plain near the river, and dry forest and thorny scrub elsewhere
Natural resources:
hydropower, timber, iron ore, manganese, limestone
Population:
6,831,306 [July 2008 est.]
Age structure:
0-14 years: 36.9% [male 1,283,311/female 1,240,769]
15-64 years: 57.9% [male 1,988,256/female 1,968,869]
65 years and over: 5.1% [male 161,811/female 188,290] [2008 est.]
Nationality:
noun: Paraguayan[s]
adjective: Paraguayan
Ethnic groups:
mestizo [mixed Spanish and Amerindian] 95%, other 5%
Languages:
Spanish [official], Guarani [official]
Capital:
name: Asuncion
geographic coordinates: 25 16 S, 57 40 W
time difference: UTC-4 [1 hour ahead of Washington, DC during Standard Time]
National holiday:
Independence Day, 14 May 1811 [observed 15 May]
GDP - composition by sector:
agriculture: 22.4%
industry: 17.6%
services: 60% [2007 est.]
Labor force:
2.787 million [2007 est.]
Budget:
revenues: $2.268 billion
expenditures: $2.469 billion [2007]
Agriculture - products:
cotton, sugarcane, soybeans, corn, wheat, tobacco, cassava [tapioca], fruits, vegetables beef, pork, eggs, milk timber
Industries:
sugar, cement, textiles, beverages, wood products, steel, metallurgic, electric power
Exports:
$6.898 billion f.o.b. [2007]
Exports - commodities:
soybeans, feed, cotton, meat, edible oils, electricity, wood, leather
Exports - partners:
Uruguay 22%, Brazil 17.2%, Russia 11.9%, Argentina 8.8%, Chile 6.9% [2006]
Imports:
$7.012 billion f.o.b. [2007]
Imports - commodities:
road vehicles, consumer goods, tobacco, petroleum products, electrical machinery, tractors, chemicals, vehicle parts
Imports - partners:
China 27%, Brazil 20%, Argentina 13.6%, Japan 8.3%, US 6.4% [2006]
Currency (code):
guarani [PYG]
Exchange rates:
guarani per US dollar - 5,031 [2007], 5,672.8 [2006], 6,178 [2005], 5,974.6 [2004], 6,424.3 [2003]
Airports:
838 [2007]
Railways:
total: 36 km
standard gauge: 36 km 1.435-m gauge [2006]
Merchant marine:
total: 22 ships [1000 GRT or over] 39,693 GRT/43,530 DWT
by type: cargo 16, container 1, livestock carrier 1, passenger 1, petroleum tanker 2, roll on/roll off 1
foreign-owned: 5 [Argentina 3, Netherlands 1, Switzerland 1] [2007]
Ports and terminals:
Asuncion, Villeta, San Antonio, Encarnacion
Trade Leads of companies wanting to do business with Paraguay

Sea Freight From Shenzhen China Guangzhou Tianjin Shanghai Qingdao To Asuncion Paraquay 40days - Sayhi0307 (
China ) - International Shipping - Tuesday 18 August 2009 6:47 am - sea freight from shenzhen china guangzhou tianjin shanghai qingdao to asuncion paraquay 40days we provide below shipping service 1 air sea fr...
Targeted Countries: Paraguay

Export Banquet Chair Covers - ZHINTSEF (
China ) - Offers to Sell and Export - Friday 21 August 2009 9:00 am - item no cr 121 description banquet chair covers product size by sample material soft terylene fabric packing 53*33*38cm 25pcs ...
Targeted Countries: USA Mexico Paraguay

Radio-type Digital Pocket Scale 100g / 0.01g 500g / 0.1g Special Weighing Pan - GlobalElectronicScales (
China ) - Offers to Sell and Export - Wednesday 9 September 2009 3:26 am - radio type digital pocket scale wbp le 4b 100g 0 01g 500g 0 1g 1000g 0 1g unit g oz dwt ozt c functions and features 1 easy t...
Targeted Countries: Thailand Paraguay

Pvc Fence - JilianxinchengIndustry (
China ) - Offers to Sell and Export - Tuesday 8 December 2009 9:08 am - pvc fence 01 fencing 4'x 6' post size 4 quot x 4 quot x84 quot rails 2 quot x 3 quot x 70 75 quot qty 2 bottom rail 2 quot x...
Targeted Countries: Paraguay Argentina Macedonia

Racking And Shelving And Cold Store Equipment - palletracking (
China ) - Offers to Sell and Export - Wednesday 13 January 2010 4:44 am - dexion compatible pallet racking system provides efficient use of storage space for palletized loads with a wide range of options and components av...
Targeted Countries: Paraguay Benin Bosnia and Herzegovina

Simple Dining Set Made From Mahogany Wood - andana (
Indonesia ) - Offers to Sell and Export - Monday 18 January 2010 1:00 pm - dining set made from mahogany wood with smooth finishing simple but nice content of 4 pcs dining chair 43 x 54 x 96 cm and 1 pc dining table 12...
Targeted Countries: Paraguay Peru Philippines

Andana Twist Sofa Set Made From Water Hyacinth, From Indonesia - andana (
Indonesia ) - Offers to Sell and Export - Wednesday 3 February 2010 7:28 am - twist set available in gliss brown medium brown and honey color another interesting woven product from us twist set made from water hyac...
Targeted Countries: Panama Papua New Guinea Paraguay

Rattan Set, Fabion Kelek Armchair Sofa Round Table For Restaurant, Home, Hotel And Terrace Indonesia - andana (
Indonesia ) - Offers to Sell and Export - Sunday 28 February 2010 3:50 am - we produced various furniture both indoor and outdoor with nice design we also accept any design from clients custom made for further information...
Targeted Countries: Paraguay Peru Philippines

Mahogany Teak Minibar Larder 2 Drawers 2 Glass Doors Minimalist Modern Style Furniture - andana (
Indonesia ) - Offers to Sell and Export - Monday 8 March 2010 7:56 am - as 008 mini bar and larder from kiln dry mahogany wood available in teak also suitable for home bar restaurant hotels and dining room c...
Targeted Countries: Paraguay Papua New Guinea Panama

Teak Outdoor Bar Table Nice And Exclusive Garden Furniture - andana (
Indonesia ) - Offers to Sell and Export - Tuesday 13 April 2010 2:01 pm - teak garden bar table #1 another nice teak garden item made from selected teak as we knew teak is the best wood especially for outdoor furniture...
Targeted Countries: Panama Papua New Guinea Paraguay

Nice Java Old Dining Chair Colonial Tea Mahogany Wooden Indoor Furniture Kiln Dry - andana (
Indonesia ) - Offers to Sell and Export - Friday 9 July 2010 8:03 pm - classic curve dining chair nice for dining room restaurant hotels etc made from kiln dry mahogany wood guarantee quality and durable cause mad...
Targeted Countries: Papua New Guinea Paraguay Peru
Hp Five Lead Defibrillation Patient Monitor Ecg Cable And Leadwire - Pansw (
China ) - Offers to Sell and Export - Wednesday 18 August 2010 8:03 am - hp five lead defibrillation patient monitor ecg cable and leadwire pm05cd specs round 8 pin connector five leadwire with defibrillation resisto...
Targeted Countries: South Africa Saudi Arabia Paraguay