Pitcairn Islands Country Data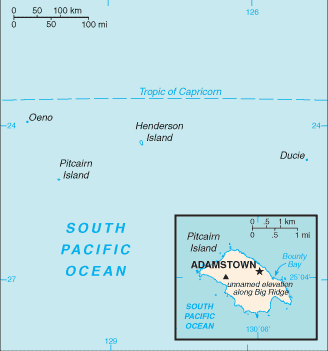 Area:
total: 47 sq km
land: 47 sq km
water: 0 sq km
Climate:
tropical hot and humid modified by southeast trade winds rainy season [November to March]
Terrain:
rugged volcanic formation rocky coastline with cliffs
Natural resources:
miro trees [used for handicrafts], fish
note: manganese, iron, copper, gold, silver, and zinc have been discovered offshore
Population:
48 [July 2008 est.]
Age structure:
0-14 years: NA
15-64 years: NA
65 years and over: NA
Nationality:
noun: Pitcairn Islander[s]
adjective: Pitcairn Islander
Ethnic groups:
descendants of the Bounty mutineers and their Tahitian wives
Languages:
English [official], Pitkern [mixture of an 18th century English dialect and a Tahitian dialect]
Capital:
name: Adamstown
geographic coordinates: 25 04 S, 130 05 W
time difference: UTC-9 [4 hours behind Washington, DC during Standard Time]
National holiday:
Birthday of Queen ELIZABETH II, second Saturday in June [1926]
Economy - overview:
The inhabitants of this tiny isolated economy exist on fishing, subsistence farming, handicrafts, and postage stamps. The fertile soil of the valleys produces a wide variety of fruits and vegetables, including citrus, sugarcane, watermelons, bananas, yams, and beans. Bartering is an important part of the economy. The major sources of revenue are the sale of postage stamps to collectors and the sale of handicrafts to passing ships. In October 2004, more than one-quarter of Pitcairn's small labor force was arrested, putting the economy in a bind, since their services were required as lighter crew to load or unload passing ships.
Labor force:
15 able-bodied men [2004]
Budget:
revenues: $746,000
expenditures: $1.028 million [FY04/05]
Agriculture - products:
honey wide variety of fruits and vegetables goats, chickens, fish
Industries:
postage stamps, handicrafts, beekeeping, honey
Exports:
Exports - commodities:
fruits, vegetables, curios, stamps
Imports:
Imports - commodities:
fuel oil, machinery, building materials, flour, sugar, other foodstuffs
Currency (code):
New Zealand dollar [NZD]
Exchange rates:
New Zealand dollars per US dollar - 1.3811 [2007], 1.5408 [2006], 1.4203 [2005], 1.5087 [2004], 1.7221 [2003]
Ports and terminals:
Adamstown [on Bounty Bay]