Puerto Rico Country Data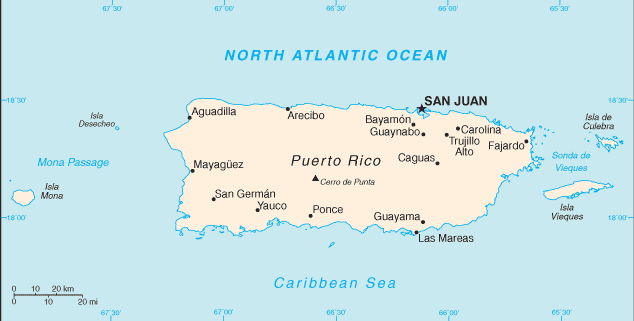 Area:
total: 13,790 sq km
land: 8,870 sq km
water: 4,921 sq km
Climate:
tropical marine, mild little seasonal temperature variation
Terrain:
mostly mountains with coastal plain belt in north mountains precipitous to sea on west coast sandy beaches along most coastal areas
Natural resources:
some copper and nickel potential for onshore and offshore oil
Population:
3,958,128 [July 2008 est.]
Age structure:
0-14 years: 20.5% [male 415,141/female 396,782]
15-64 years: 66% [male 1,254,416/female 1,358,229]
65 years and over: 13.5% [male 229,727/female 303,833] [2008 est.]
Nationality:
noun: Puerto Rican[s] [US citizens]
adjective: Puerto Rican
Ethnic groups:
white [mostly Spanish origin] 80.5%, black 8%, Amerindian 0.4%, Asian 0.2%, mixed and other 10.9%
Languages:
Spanish, English
Capital:
name: San Juan
geographic coordinates: 18 28 N, 66 07 W
time difference: UTC-4 [1 hour ahead of Washington, DC during Standard Time]
National holiday:
US Independence Day, 4 July [1776] Puerto Rico Constitution Day, 25 July [1952]
GDP - composition by sector:
agriculture: 1%
industry: 45%
services: 54% [2002 est.]
Labor force:
1.3 million [2000]
Budget:
revenues: $6.7 billion
expenditures: $9.6 billion [FY99/00]
Agriculture - products:
sugarcane, coffee, pineapples, plantains, bananas livestock products, chickens
Industries:
pharmaceuticals, electronics, apparel, food products, tourism
Exports:
$46.9 billion f.o.b. [2001]
Exports - commodities:
chemicals, electronics, apparel, canned tuna, rum, beverage concentrates, medical equipment
Exports - partners:
US 90.3%, UK 1.6%, Netherlands 1.4%, Dominican Republic 1.4% [2006]
Imports:
$29.1 billion c.i.f. [2001]
Imports - commodities:
chemicals, machinery and equipment, clothing, food, fish, petroleum products
Imports - partners:
US 55.0%, Ireland 23.7%, Japan 5.4% [2006]
Currency (code):
US dollar [USD]
Exchange rates:
the US dollar is used
Airports:
29 [2007]
Railways:
total: 96 km
narrow gauge: 96 km 1.000-m gauge [2006]
Merchant marine:
total: 3 ships [1000 GRT or over] 77,177 GRT/50,138 DWT
by type: roll on/roll off 3
foreign-owned: 3 [US 3]
registered in other countries: 1 [St Vincent and The Grenadines 1] [2007]
Ports and terminals:
Guayanilla, Mayaguez, San Juan
Trade Leads of companies wanting to do business with Puerto Rico
Wood Dorr Balusters Balustrade Stair Supplies Treads Riser - Krismewood (
Usa ) - Offers to Sell and Export - Fri 16 May, 2008 3:56 pm - we are a peruvian company located in iquitos peru amazonas place that operates from 2000 iin the area of the wood we do max quantity o b...
Targeted Countries: Puerto Rico USA Mexico
Chapa Antideslizante Aluminio - Newsmetal (
China ) - Offers to Sell and Export - Fri 22 Aug, 2008 5:11 pm - chapa antideslizante aluminio 1 alloy 1 series 3 series 5 series 6 series 7 series 8 series 2 temper o h16 h18 h22 h24 h26 h0 ...
Targeted Countries: Singapore Portugal Puerto Rico
Gy6 125 And 150cc 152qmi 157qmj High Performance Parts - Hzfmotortrade (
China ) - Offers to Sell and Export - Fri 17 Oct, 2008 1:09 am - 1 gy6 125 amp amp 150cc high performance parts 2 can supply gy6 high performance parts racing parts include big bore cylinder big bore cylinder ...
Targeted Countries: Puerto Rico
Or-f02 Mini Fogger - Naisy4057 (
China ) - Offers to Sell and Export - Fri 31 Oct, 2008 1:16 am - or f02 mini fogging machine is our newly products it is smallness and smartness we are the manufacture from china with fogging machine so we can pro...
Targeted Countries: Azerbaijan Iran Puerto Rico
Rod Chair Used For Building . Bar Support Used For Building , Bar Chair / Spacer Used For Building - Swkxlj (
China ) - Offers to Sell and Export - Tue 18 Nov, 2008 1:41 am - we are anping shuangwang metal products factory we produce and offer many kinds building material and wire mesh such as bar chairs bar...
Targeted Countries: Puerto Rico Brazil New Zealand
Bridge Building Rebar Chairs - Swkxlj (
China ) - Offers to Sell and Export - Tue 18 Nov, 2008 7:50 am - we are anping shuangwang metal products factory we produce many kinds building material and wire mesh used for bridge building storied build...
Targeted Countries: USA Panama Puerto Rico
Steel Bar Foundation Chair - Swkxlj (
China ) - Offers to Sell and Export - Wed 11 Feb, 2009 12:58 am - we produce many kinds building material and wire mesh such as steel bar foundation chair bar supports bar spacer bar chair rebar chairs...
Targeted Countries: Philippines UK Puerto Rico
Handpainted Oil On Canvas Arts-abstract Figure - XiaMenFlyArt (
China ) - Offers to Sell and Export - Sat 11 Jul, 2009 11:47 am - abstract figure oil on canvas for decoration fine art work and competitive price different size are accepted 100% handmade oil on canvas...
Targeted Countries: USA Puerto Rico
Car Oil Painting, Oil On Canvas, Car Oils Paintings, Cars Art For Sale, Cars Artwork - XiaMenFlyArt (
China ) - Offers to Sell and Export - Fri 24 Jul, 2009 6:33 am - car oil painting oil on canvas car oils paintings cars art for sale cars artwork whlolesale supplier 1 100% handmade 2 different size ar...
Targeted Countries: Puerto Rico USA
Shipping Rates And Quotation Qingdao Shanghai Shenzhen To Bridgetown Barbados , San Juan Puerto Rico - Sayhi0307 (
China ) - International Shipping - Wed 19 Aug, 2009 9:45 am - shipping rates and quotation qingdao shanghai shenzhen to bridgetown barbados san juan puerto rico shipping time 35days from qingdao 30days fr...
Targeted Countries: Puerto Rico

Stainless Steel Wire Mesh - JilianxinchengIndustry (
China ) - Offers to Sell and Export - Tue 01 Dec, 2009 6:55 am - stainless steel wire mesh the ss wire mesh materials in aisi 302 304 316 304l and 316l we are capable of producing ss wire mesh from 1 to ...
Targeted Countries: Puerto Rico Poland Sri Lanka
Shipping Rate And Time From Qingdao To Manzanillo Monterrey Lazaro Cardenas Mexico - Qingdaoseafreight (
China ) - International Shipping - Thu 24 Dec, 2009 12:11 pm - qingdao to manzanillo 20days monterrey 26days lazaro cardenas 19days mexico 1 air sea freight forwarding fcl lcl 2 warehousing warehou...
Targeted Countries: Mexico Puerto Rico