Romania Country Data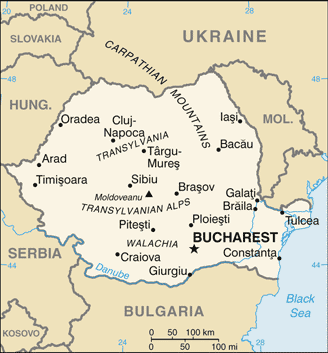 Area:
total: 237,500 sq km
land: 230,340 sq km
water: 7,160 sq km
Climate:
temperate cold, cloudy winters with frequent snow and fog sunny summers with frequent showers and thunderstorms
Terrain:
central Transylvanian Basin is separated from the Plain of Moldavia on the east by the Carpathian Mountains and separated from the Walachian Plain on the south by the Transylvanian Alps
Natural resources:
petroleum [reserves declining], timber, natural gas, coal, iron ore, salt, arable land, hydropower
Population:
22,246,862 [July 2008 est.]
Age structure:
0-14 years: 15.6% [male 1,778,864/female 1,687,659]
15-64 years: 69.7% [male 7,718,125/female 7,791,102]
65 years and over: 14.7% [male 1,337,915/female 1,933,197] [2008 est.]
Nationality:
noun: Romanian[s]
adjective: Romanian
Ethnic groups:
Romanian 89.5%, Hungarian 6.6%, Roma 2.5%, Ukrainian 0.3%, German 0.3%, Russian 0.2%, Turkish 0.2%, other 0.4% [2002 census]
Languages:
Romanian 91% [official], Hungarian 6.7%, Romany [Gypsy] 1.1%, other 1.2%
Capital:
name: Bucharest
geographic coordinates: 44 26 N, 26 06 E
time difference: UTC+2 [7 hours ahead of Washington, DC during Standard Time]
daylight saving time: +1hr, begins last Sunday in March ends last Sunday in October
National holiday:
Unification Day [of Romania and Transylvania], 1 December [1918]
GDP - composition by sector:
agriculture: 7.9%
industry: 35.6%
services: 56.5% [2007 est.]
Labor force:
9.35 million [2007 est.]
Budget:
revenues: $56.29 billion
expenditures: $60.41 billion [2007]
Agriculture - products:
wheat, corn, barley, sugar beets, sunflower seed, potatoes, grapes eggs, sheep
Industries:
electric machinery and equipment, textiles and footwear, light machinery and auto assembly, mining, timber, construction materials, metallurgy, chemicals, food processing, petroleum refining
Exports:
$40.25 billion f.o.b. [2007]
Exports - commodities:
machinery and equipment, textiles and footwear, metals and metal products, machinery and equipment, minerals and fuels, chemicals, agricultural products
Exports - partners:
Italy 17.9%, Germany 15.7%, Turkey 7.7%, France 7.5%, Hungary 4.9%, UK 4.7% [2006]
Imports:
$64.33 billion f.o.b. [2007]
Imports - commodities:
machinery and equipment, fuels and minerals, chemicals, textile and products, metals, agricultural products
Imports - partners:
Germany 15.2%, Italy 14.5%, Russia 7.8%, France 6.5%, Turkey 4.9%, China 4.3% [2006]
Currency (code):
new leu [RON] was introduced in 2005 old leu [ROL] was phased out in 2006 note - because of currency revaluation, 10,000 ROL = 1 RON
Exchange rates:
lei per US dollar - 2.43 [2007], 2.809 [2006], 3 [2005], 3 [2004], 3 [2003]
Airports:
61 [2007]
Railways:
total: 11,385 km
broad gauge: 60 km 1.524-m gauge
standard gauge: 10,898 km 1.435-m gauge [3,888 km electrified]
narrow gauge: 427 km 0.760-m gauge [2006]
Merchant marine:
total: 19 ships [1000 GRT or over] 146,307 GRT/165,548 DWT
by type: cargo 13, passenger 1, passenger/cargo 2, petroleum tanker 2, roll on/roll off 1
registered in other countries: 50 [Cambodia 1, Georgia 15, North Korea 6, Malta 10, Marshall Islands 1, Panama 8, Sierra Leone 2, St Kitts and Nevis 1, St Vincent and The Grenadines 1, Syria 4, Tuvalu 1, unknown 4] [2007]
Ports and terminals:
Braila, Constanta, Galati, Tulcea
Trade Leads of companies wanting to do business with Romania
Sell Water Hyacinth Corner Sofa Set - MinhPhatFurniture (
Vietnam ) - Offers to Sell and Export - Wed 09 Apr, 2008 4:01 am - water hyacinth corner sofa set with cushion and glass this corner sofa looks very simple but very nice located in corner of living room is more su...
Targeted Countries: Romania Sweden Spain
Black Cocoa Powder - Shangkefood (
China ) - Offers to Sell and Export - Sat 12 Apr, 2008 1:28 am - specifications physical characteristics 1 fineness 99 0 99 7% through 200 micron sieve 2 appearance fine free flowing dark brown powde...
Targeted Countries: Croatia Romania Turkey
Romanian Tractor Utb-650 Spare Parts - R And G Automotives Ltd (
India ) - Offers to Sell and Export - Mon 14 Apr, 2008 5:31 am - r amp amp g automotives ltd specializes in exporting huge range of replacement parts for romanian tractor utb 650 we have been exporting this tr...
Targeted Countries: Egypt Romania
Viscose, Square, Scarf - Keithkahar (
China ) - Offers to Sell and Export - Thu 08 May, 2008 5:27 am - ct5401 size 120*115cm 8cm min qnt 500pcs 100%viscose many other more colors and patterns are available at www feishangscarves com...
Targeted Countries: Italy Romania France
Chest Freezer, Chest Cooler, Chest Refrigerator, Deep Freezer-china Origin Products-solid And Glass - Sddragon (
China ) - Offers to Sell and Export - Mon 26 May, 2008 7:25 am - dragon refrigeration equipment company is a china professional manufacturer and factory of chest freezer the chest freezers we manufacture and sup...
Targeted Countries: Russia Romania Ukraine

Portland Cement Urea Sugar Seller Ns Commerce En 197 / 2000 British Standard 12 / 1997 Astm C-150 - Nscommerce (
Serbia ) - Offers to Sell and Export - Mon 26 May, 2008 11:17 pm - dear buyers and brokers we are the company and the official representative of the seller the largest supplier of portland cement all over th...
Targeted Countries: Russia Libya Romania
Cocoa Liquor For Importer - Shangkefood (
China ) - Offers to Sell and Export - Fri 13 Jun, 2008 3:07 am - specifications physical and chemical characteristics fat content 52 0% min ph 5 0 5 8 moisture 2 0% max shell content % 1 75 max ...
Targeted Countries: Romania Croatia

Expanded Metal Panel Machine - Conetcn (
China ) - Offers to Sell and Export - Wed 18 Jun, 2008 5:33 am - expanded metal mesh machine beijing conet science technology co ltd model lc25 160b material thickness 0 2 3mm metal mater...
Targeted Countries: Algeria Spain Romania

Deformed Bar Making Machine - Conetcn (
China ) - Offers to Sell and Export - Fri 11 Jul, 2008 3:05 am - deformed bar making machine beijing conet science technology co ltd we specialize in 3d panel plant eps line wire mesh welding l...
Targeted Countries: UAE Romania Ukraine

Eps Foam Block Molding Machine - Conetcn (
China ) - Offers to Sell and Export - Fri 11 Jul, 2008 5:34 am - eps block molding machine beijing conet science technology co ltd we specialize in 3d panel plant eps line wire mesh welding lin...
Targeted Countries: Israel Poland Romania
Sell Decoration Gift Of Ice Block - Dipond (
China ) - Offers to Sell and Export - Mon 25 Aug, 2008 9:54 am - 1 celebrate in bars parties holiday birthday and feast used in garden kitchen outdoor or occasions supplies 2 different colors red or...
Targeted Countries: Chile Romania USA

Deformed Bar Ribbing Machine - Conetcn (
China ) - Offers to Sell and Export - Tue 02 Sep, 2008 3:55 am - beijing conet science technology co ltd we specialize in 3d panel plant eps line wire mesh welding lines expanded metal mesh...
Targeted Countries: Turkey Russia Romania