Saint Barthelemy Country Data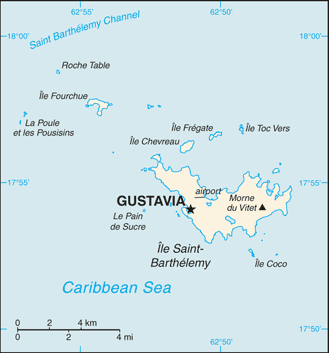 Area:
21 sq km
Climate:
tropical, with practically no variation in temperature has two seasons [dry and humid]
Terrain:
hilly, almost completely surrounded by shallow-water reefs, with 20 beaches
Natural resources:
has few natural resouces, its beaches being the most important
Population:
7,492 [July 2008 est.]
Ethnic groups:
white, Creole [mulatto], black, Guadeloupe Mestizo [French-East Asia]
Languages:
French [primary], English
Capital:
name: Gustavia
geographic coordinates: 17 53 N, 62 51 W
time difference: UTC-4 [1 hour ahead of Washington, DC, during Standard Time]
National holiday:
Bastille Day, 14 July [1789] note - local holiday is St. Barthelemy Day, 24 August
Economy - overview:
The economy of Saint Barthelemy is based upon high-end tourism and duty-free luxury commerce, serving visitors primarily from North America. The luxury hotels and villas host 70,000 visitors each year with another 130,000 arriving by boat. The relative isolation and high cost of living inhibits mass tourism. The construction and public sectors also enjoy significant investment in support of tourism. With limited fresh water resources, all food must be imported, as must all energy resources and most manufactured goods. Employment is strong and attracts labor from Brazil and Portugal.
Currency (code):
euro [EUR] note - US dollar [USD] widely used
Exchange rates:
euros per US dollar - 0.7345 [2007], 0.7964 [2006], 0.8041 [2005], 0.8054 [2004], 0.886 [2003]
Airports:
1