Samoa Country Data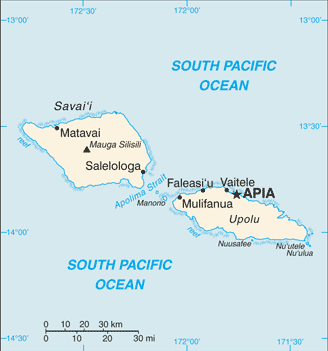 Area:
total: 2,944 sq km
land: 2,934 sq km
water: 10 sq km
Climate:
tropical rainy season [November to April], dry season [May to October]
Terrain:
two main islands [Savaii, Upolu] and several smaller islands and uninhabited islets narrow coastal plain with volcanic, rocky, rugged mountains in interior
Natural resources:
hardwood forests, fish, hydropower
Population:
217,083
note: prior estimates used official net migration data by sex, but a highly unusual pattern for 1993 lead to a significant imbalance in the sex ratios [more men and fewer women] and a seeming reduction in the female population the revised total was calculated using a 1993 number that was an average of the 1992 and 1994 migration figures [July 2008 est.]
Age structure:
0-14 years: 37.9% [male 41,834/female 40,343]
15-64 years: 56.5% [male 64,402/female 58,257]
65 years and over: 5.6% [male 5,481/female 6,766] [2008 est.]
Nationality:
noun: Samoan[s]
adjective: Samoan
Ethnic groups:
Samoan 92.6%, Euronesians 7% [persons of European and Polynesian blood], Europeans 0.4%
Languages:
Samoan [Polynesian], English
Capital:
name: Apia
geographic coordinates: 13 50 S, 171 44 W
time difference: UTC-11 [6 hours behind Washington, DC during Standard Time]
National holiday:
Independence Day Celebration, 1 June [1962] note - 1 January 1962 is the date of independence from the New Zealand-administered UN trusteeship it is observed in June
GDP - composition by sector:
agriculture: 11.4%
industry: 58.4%
services: 30.2% [2004 est.]
Labor force:
90,000 [2000 est.]
Budget:
revenues: $171.3 million
expenditures: $78.1 million [FY04/05 est.]
Agriculture - products:
coconuts, bananas, taro, yams, coffee, cocoa
Industries:
food processing, building materials, auto parts
Exports:
$131 million f.o.b. [2006]
Exports - commodities:
fish, coconut oil and cream, copra, taro, automotive parts, garments, beer
Exports - partners:
Australia 44.1%, American Samoa 29.9%, Taiwan 11.3% [2006]
Imports:
$324 million f.o.b. [2006]
Imports - commodities:
machinery and equipment, industrial supplies, foodstuffs
Imports - partners:
NZ 21.5%, Fiji 14.8%, Singapore 13.2%, Australia 8.6%, Japan 8.6%, US 6.2%, Indonesia 5%, China 4.4% [2006]
Currency (code):
tala [SAT]
Exchange rates:
tala per US dollar - NA [2007], 2.7594 [2006], 2.7103 [2005], 2.7807 [2004], 2.9732 [2003]
Airports:
4 [2007]
Merchant marine:
total: 1 ship [1000 GRT or over] 7,091 GRT/8,127 DWT
by type: cargo 1
foreign-owned: 1 [Cyprus 1] [2007]
Ports and terminals:
Apia
Trade Leads of companies wanting to do business with Samoa

Round Dining Set In Medium Brown Color - andana (
Indonesia ) - Offers to Sell and Export - Tue 19 Jan, 2010 12:09 pm - round dining set made from selected mahogany with smooth finished content of 4 pcs dining table 1 round table 130 x 130 x 76 cm and 1 pc buffe...
Targeted Countries: Russia Rwanda Samoa

Gliss Brown Rattan Fabion Set From Java Indonesia - andana (
Indonesia ) - Offers to Sell and Export - Fri 05 Feb, 2010 1:15 am - another rattan set product from java indonesia simple set with very competitive price for rattan set named fabion set made from natural rattan f...
Targeted Countries: Rwanda Samoa San Marino

Flat Water Hyacinth Dining Set With Mahogany Table In Gliss Brown Color - andana (
Indonesia ) - Offers to Sell and Export - Wed 03 Mar, 2010 6:20 am - we produced many items of outdoor indoor and rattan woven furniture some of new design not listed in our online catalog so contact us woven ...
Targeted Countries: Samoa San Marino Sao Tome and Principe

As-004. Center Coffee Table 120 Cm Living Room, Lobby Hotel, Restaurant Mahogany And Teak - andana (
Indonesia ) - Offers to Sell and Export - Mon 08 Mar, 2010 2:36 am - color available light brown dark brown and medium brown dimension 120 x 70 x 45 cm packaging box paper or corrugated paper warran...
Targeted Countries: San Marino Samoa Saint Vincent and the Grenadines

Rectangular Teak Shower Spain For Outdoor And Indoor Furniture Knock Down - andana (
Indonesia ) - Offers to Sell and Export - Tue 13 Apr, 2010 2:17 pm - teak shower spain teak shower spain in square shape made from selected kiln dry teak with natural and teak oil finished competitive price f...
Targeted Countries: Saint Vincent and the Grenadines Samoa San Marino
European Colonial Old Dining Set Round Table Teak Mahogany Wooden Indoor Furniture Java Indonesia - andana (
Indonesia ) - Offers to Sell and Export - Fri 09 Jul, 2010 8:19 pm - round dining set made from solid mahogany wood with smooth finishing content of 4 pcs dining chair 46 x 58 x 102 cm server buffet 130 x 45 x 100...
Targeted Countries: Saint Vincent and the Grenadines Samoa San Marino

Container Shipping Price From Shenzhen Hongkong Guangzhou To Saipan Guam Yap - Sayhi0307 (
China ) - International Shipping - Mon 24 Jun, 2013 8:41 am - container shipping price from shenzhen hongkong guangzhou to saipan guam yap direct shipping from hongkong hit port to above port ...
Targeted Countries: Samoa

Nm01 Capping Machine - WuxiYingrunMachinery (
China ) - Offers to Sell and Export - Tue 06 Jun, 2017 8:11 am - nm01 capping machine aluminum tubes line nm01 is the capping machine for printed and dried aluminum tubes tubes are sent to capping machine where...
Targeted Countries: Cuba Samoa Vanuatu