Sierra Leone Country Data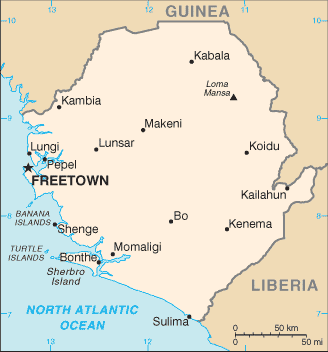 Area:
total: 71,740 sq km
land: 71,620 sq km
water: 120 sq km
Climate:
tropical hot, humid summer rainy season [May to December] winter dry season [December to April]
Terrain:
coastal belt of mangrove swamps, wooded hill country, upland plateau, mountains in east
Natural resources:
diamonds, titanium ore, bauxite, iron ore, gold, chromite
Population:
6,294,774 [July 2008 est.]
Age structure:
0-14 years: 44.6% [male 1,377,981/female 1,429,993]
15-64 years: 52.2% [male 1,573,990/female 1,708,840]
65 years and over: 3.2% [male 94,359/female 109,611] [2008 est.]
Nationality:
noun: Sierra Leonean[s]
adjective: Sierra Leonean
Ethnic groups:
20 African ethnic groups 90% [Temne 30%, Mende 30%, other 30%], Creole [Krio] 10% [descendants of freed Jamaican slaves who were settled in the Freetown area in the late-18th century], refugees from Liberia's recent civil war, small numbers of Europeans, Lebanese, Pakistanis, and Indians
Languages:
English [official, regular use limited to literate minority], Mende [principal vernacular in the south], Temne [principal vernacular in the north], Krio [English-based Creole, spoken by the descendants of freed Jamaican slaves who were settled in the Freetown area, a lingua franca and a first language for 10% of the population but understood by 95%]
Capital:
name: Freetown
geographic coordinates: 8 30 N, 13 15 W
time difference: UTC 0 [5 hours ahead of Washington, DC during Standard Time]
National holiday:
Independence Day, 27 April [1961]
GDP - composition by sector:
agriculture: 49%
industry: 31%
services: 21% [2001 est.]
Labor force:
1.369 million [1981 est.]
Budget:
revenues: $96 million
expenditures: $351 million [2000 est.]
Agriculture - products:
rice, coffee, cocoa, palm kernels, palm oil, peanuts poultry, cattle, sheep, pigs fish
Industries:
diamond mining small-scale manufacturing [beverages, textiles, cigarettes, footwear] petroleum refining, small commercial ship repair
Exports:
$216 million f.o.b. [2006]
Exports - commodities:
diamonds, rutile, cocoa, coffee, fish
Exports - partners:
Belgium 52.1%, US 19.1%, Netherlands 6.8% [2006]
Imports:
$560 million f.o.b. [2006]
Imports - commodities:
foodstuffs, machinery and equipment, fuels and lubricants, chemicals
Imports - partners:
Cote d'Ivoire 9.3%, US 7.7%, China 7.7%, Brazil 6.9%, UK 6.7%, Netherlands 5.5%, South Africa 4.5%, India 4.4%, France 4.2% [2006]
Currency (code):
leone [SLL]
Exchange rates:
leones per US dollar - NA [2007], 2,961.7 [2006], 2,889.6 [2005], 2,701.3 [2004], 2,347.9 [2003]
Airports:
10 [2007]
Merchant marine:
total: 113 ships [1000 GRT or over] 314,549 GRT/419,409 DWT
by type: bulk carrier 1, cargo 85, chemical tanker 4, combination ore/oil 1, container 4, liquefied gas 1, livestock carrier 1, passenger 1, passenger/cargo 4, petroleum tanker 7, roll on/roll off 4
foreign-owned: 47 [Belgium 1, China 8, Greece 1, Romania 2, Russia 5, Syria 8, Turkey 7, Ukraine 8, UAE 7] [2007]
Ports and terminals:
Freetown, Pepel, Sherbro Islands
Trade Leads of companies wanting to do business with Sierra Leone

Adf-019 Simply Dining Set With Competitive Price - andana (
Indonesia ) - Offers to Sell and Export - Tue 19 Jan, 2010 12:20 pm - simple dining set made from kiln dry mahogany with smooth finishing consist of 4 pcs dining chair and 1 pc dining table suitable for restaur...
Targeted Countries: Serbia Sierra Leone Singapore

Fabion Rattan Furniture Set In Gliss Brown Color - andana (
Indonesia ) - Offers to Sell and Export - Fri 05 Feb, 2010 1:25 am - consist of 2 pcs arm chair 58 x 58 x 80 cm 1 pc sofa 58 x 105 x 80 cm and 1 pc table 57 x 57 x 55 cm simple set with very competitive price fo...
Targeted Countries: Sierra Leone Singapore Slovakia
Sofa Set Made From Flat Water Hyacinth Coffe Table Arm Chair Java Indonesia - andana (
Indonesia ) - Offers to Sell and Export - Wed 03 Mar, 2010 6:33 am - flat water hyacinth sofa set made from flat water hyacinth with nice model and smooth finished material could be replace between sea grass rat...
Targeted Countries: Seychelles Sierra Leone Singapore

Teak Butterfly Set Table And Stacking Chair Outdoor Indoor Furniture - andana (
Indonesia ) - Offers to Sell and Export - Wed 14 Apr, 2010 2:54 pm - suitable for garden hotel swimming pool beach terrace restaurant etc simple and nice set from tropical country indonesia teak butterfly roun...
Targeted Countries: Serbia Seychelles Sierra Leone

Libero Pico Cabinet Bookcase Teak Mahogany Wooden Indoor Furniture Java Indonesia - andana (
Indonesia ) - Offers to Sell and Export - Fri 09 Jul, 2010 8:23 pm - libero cabinet with 2 drawers 2 doors made from solid mahogany wood with smooth finishing from tropical country indonesia with minimalist and mo...
Targeted Countries: Serbia Seychelles Sierra Leone

Heavy Type Pvc Coated Welded Wire Mesh Panel - akwiremesh02 (
China ) - Offers to Sell and Export - Mon 23 Aug, 2010 8:10 am - heavy type pvc coated welded wire mesh panel assortments available welded stainless steel wire mesh panels galvanized welded mesh panels hot di...
Targeted Countries: Saint Kitts and Nevis Sierra Leone Zimbabwe

Cpv50 Concrete Vibrator From Chinese Concrete Poker Vibrating Machine Manufacturer - topallconcretemixer (
China ) - Offers to Sell and Export - Wed 22 Dec, 2010 2:55 am - model cpv50 3g znr50 concrete vibrator engine robin ey20 petrol engine vibrating frequency 140 200 hz weight packing 22 kg overall size packi...
Targeted Countries: Mali Sierra Leone Togo

International Shipped From Shanghai / Shenzhen / Qingdao / Ningbo To Lagos / Onne / Tincan / Freetow - TZlogistics (
China ) - International Shipping - Thu 24 Oct, 2013 7:59 am - international shipped from shanghai shenzhen qingdao ningbo to lagos onne tincan freetown more rates from china to your country pls contact us qi...
Targeted Countries: Nigeria Sierra Leone

Dry Mix Cement Mortar - drymortarmixer (
China ) - Offers to Sell and Export - Thu 28 Nov, 2013 9:42 am - henan oriental machienry co ltd dry mix cement mortar is also called pre mixed mortar producton line which made in the factory by precise batchi...
Targeted Countries: Ecuador Guatemala Sierra Leone

Ready Mix Mortar Plant - drymortarmixer (
China ) - Offers to Sell and Export - Thu 19 Dec, 2013 9:51 am - ready mix mortar plant dry mortar machine introduction 1 configuration of ready mix mortar plant dry mortar machine henan oriental machinery c...
Targeted Countries: Dominica Sierra Leone Singapore