South Georgia and the South Sandwich Islands Country Data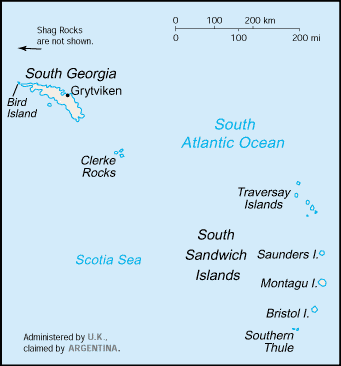 Area:
total: 3,903 sq km
land: 3,903 sq km
water: 0 sq km
note: includes Shag Rocks, Black Rock, Clerke Rocks, South Georgia Island, Bird Island, and the South Sandwich Islands, which consist of 11 islands
Climate:
variable, with mostly westerly winds throughout the year interspersed with periods of calm nearly all precipitation falls as snow
Terrain:
most of the islands, rising steeply from the sea, are rugged and mountainous South Georgia is largely barren and has steep, glacier-covered mountains the South Sandwich Islands are of volcanic origin with some active volcanoes
Natural resources:
fish
Population:
no indigenous inhabitants
note: the small military garrison on South Georgia withdrew in March 2001 replaced by a permanent group of scientists of the British Antarctic Survey, which also has a biological station on Bird Island the South Sandwich Islands are uninhabited
Economy - overview:
Some fishing takes place in adjacent waters. There is a potential source of income from harvesting finfish and krill. The islands receive income from postage stamps produced in the UK, sale of fishing licenses, and harbor and landing fees from tourist vessels. Tourism from specialized cruise ships is increasing rapidly.
Ports and terminals:
Grytviken
Trade Leads of companies wanting to do business with South Georgia and the South Sandwich Islands
Lvt Wpc Dry Back And Self Adhesives And Click And Loose Lay Vinyl Flooring Mdm 083 Hickory2 - beautyflooring (
China ) - Offers to Sell and Export - Thu 04 Aug, 2016 3:53 am - beijing beauty flooring decoration material co ltd thickness dicke 2mm and 3mm glue down 4mm click 5mm click and loose lay wear layer ...
Targeted Countries: Albania Isle of Man South Georgia and the South Sandwich Islands

Fire Retardant-mastic - DeheInsulationTechnology (
China ) - Offers to Sell and Export - Thu 23 Feb, 2017 1:43 am - the mastic technical data should meet the following requirements and please provide the mastic data sheet and quality certificate documents specifi...
Targeted Countries: Antarctica Malaysia South Georgia and the South Sandwich Islands