Product Photo: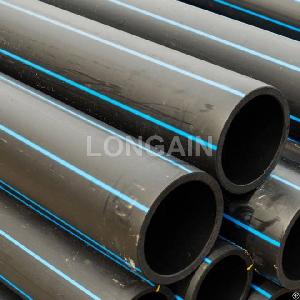 Similar Products Catalog:

Density Polyethylene Photos Catalog
Product Description:
High Density Polyethylene Pipe HDPE Black HDPE Water Pipe HDPE Manufacturer Hdpe Underground Water
Pipe
Product description
Items hdpe pipe
Material polyethylene (pe100)
Pressure rating pn5, pn6, pn8, pn10, pn12.5, pn16, pn20, pn25
Size range 16-630mm
Standard iso 4427
Colors black, Certificate iso14001,  iso9001, ce
Connection socket fusion, butt fusion, electric fusion
Development History
High-density polyethylene, the English name is "High Density Polyethylene", or "HDPE" for short. HDPE is a non-polar thermoplastic resin with high crystallinity. The appearance of the original HDPE is milky white, and the thin section is translucent to a certain extent. PE has excellent resistance to most domestic and industrial chemicals. Certain types of chemicals can cause chemical corrosion, such as corrosive oxidizers (concentrated nitric acid), aromatic hydrocarbons (xylene) and halogenated hydrocarbons (carbon tetrachloride). The polymer is non-hygroscopic and has good water vapor resistance, and can be used for packaging purposes. HDPE has good electrical properties, especially the high dielectric strength of the insulation, making it very suitable for wires and cables. Medium to high molecular weight grades have excellent impact resistance, even at room temperature and even at low temperatures of -40F.
Although HDPE was launched in 1956, this plastic has not yet reached a mature level. This general-purpose material is constantly developing its new uses and markets.
PE can be manufactured in a wide range of different processing methods. Including such as sheet extrusion, film extrusion, pipe or profile extrusion, blow molding, injection molding and rotational molding.  
Features and Advantages
HDPE is a good pipeline. It should not only have good economic efficiency, but also have a series of advantages such as stable and reliable interface, anti-impact, anti-cracking, anti-aging, and corrosion resistance. Compared with traditional pipes, HDPE piping system has The following series of advantages:
⑴Reliable connection: The polyethylene pipe system is connected by electric heat melting, and the strength of the joint is higher than the strength of the pipe body.
⑵Good low-temperature impact resistance: The low-temperature embrittlement temperature of polyethylene is extremely low, and it can be used safely in the temperature range of -60-60℃. During construction in winter, because the material has good impact resistance, the pipe will not be brittle.
⑶ Good stress crack resistance: HDPE has low notch sensitivity, high shear strength and excellent scratch resistance, and its environmental stress crack resistance is also very outstanding.
⑷Good chemical corrosion resistance: HDPE pipelines can withstand the corrosion of a variety of chemical media, and the chemical substances in the soil will not cause any degradation to the pipeline. Polyethylene is an electrical insulator, so it will not rot, rust or electrochemical corrosion; in addition, it will not promote the growth of algae, bacteria or fungi.
⑸Aging resistance and long service life: The polyethylene pipe containing 2-2.5% evenly distributed carbon black can be stored or used outdoors for 50 years without being damaged by ultraviolet radiation.
⑹ Good abrasion resistance: The comparison test of the abrasion resistance of HDPE pipes and steel pipes shows that the abrasion resistance of HDPE pipes is 4 times that of steel pipes. In the field of mud transportation, HDPE pipes have better wear resistance than steel pipes, which means that HDPE pipes have a longer service life and better economy.
⑺ Good flexibility: The flexibility of HDPE pipeline makes it easy to bend. In engineering, obstacles can be bypassed by changing the direction of the pipeline. In many cases, the flexibility of the pipeline can reduce the amount of pipe fittings and reduce installation costs.
⑻Small water flow resistance: HDPE pipe has a smooth inner surface, and its Manning coefficient is 0.009. The smooth performance and non-adhesive properties ensure that HDPE pipes have a higher conveying capacity than traditional pipes, and at the same time reduce the pressure loss of the pipes and the energy consumption of water transmission.
⑼Convenient handling: HDPE pipes are lighter than concrete pipes, galvanized pipes and steel pipes. It is easy to handle and install. Lower manpower and equipment requirements mean that the installation cost of the project is greatly reduced.
⑽Various new construction methods: HDPE pipeline has a variety of construction technologies. In addition to traditional excavation methods, it can also use a variety of new non-excavation technologies such as pipe jacking, directional drilling, liner, It is a good choice for some places where excavation is not allowed.  
Connection method
The diameter of HDPE pipe ranges from DN32 to DN1000, and is divided into 26 levels. The pressure level is between 0.6Mpa and 1.6Mpa, a total of 5 levels.
HDPE pipe will be melted between 190℃n240℃. With this feature, the two melted parts of the pipe (or pipe fittings) can be fully contacted and maintained at proper pressure. After cooling, the two can be firmly integrated. Therefore, the connection method of PE pipe is different from that of U-PVC pipe. It usually adopts two methods of electric hot melt connection and hot melt butt. According to the size of the pipe, it can be divided into: when DN≤63, injection hot melt socket connection is used; When DN≥75, use hot melt butt connection or electrofusion socket connection; when connecting with different materials, use flange or threaded connection.
In the pipeline repair method, there are expansion pipe construction method and lining HDPE method.  
Application
HDPE water supply pipelines are widely used, mainly because they have advantages that other pipelines cannot match:
1. It is easy to butt welding and electrofusion welding to form a closed anti-seepage system. When laying along the trench, it can reduce the amount of trench excavated earthwork and reduce the amount of accessories.
2. Light weight and easy to install and handle;
3. With strong wear resistance and excellent hydraulic performance, no external protection is needed for buried pipelines. It can be applied to earthquake and soil settlement areas in mining areas, and it can also be laid at the bottom of rivers by the sinking method.
4. Resistant to chemical corrosion, internal, external and microbial corrosion, strong corrosion resistance, and healthy. It is suitable for transporting acidic and alkaline substances, sewage, natural gas, coal gas and other substances;
5. Good environmental adaptability and frost resistance. Can be used for indoor and outdoor water supply pipelines.
6. Long service life, with a service life of more than almost 50 years;
Company Contact:
Contact Name: Wel Diao
Company Name: Shanghai Longain Industry Co., Ltd
Email:
Tel: 8618352762365
Fax: 8618352762365
Street Address: No. 95, Shihu New
Road, Shihudang Town, Songjiang
District Shanghai, Shanghai 200000
China
Other Contact Info:
Whatsapp 8618352762365
Website:
http://www.longainpipe.com
Member name: longainpipe
Country:
China
Member Since: 13 December 2021
Total Leads:
10 longainpipe Import Export Business Leads
Business focus: Ppr Pipes, Hdpe Pipe Fittings
Chat:

Verify:
Safe Import Export Tips