Product Photo: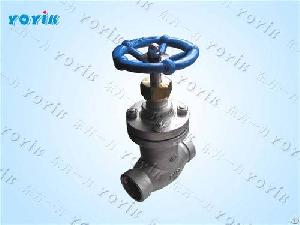 Similar Products Catalog:

Indonesia Power System Photos Catalog
Product Description:
Indonesia power system globe valve SHV9.6
Shut-off globe valves are widely used in various steam turbine
systems, such as: oil motor integrated block, pump outlet control block, accumulator integrated block and so on.
Our company is equipped with high-precision cutting-edge technology from Dongfang Electric Corporation (DEC). Our products are mainly used in chemical industry, power plants, steel and other areas. Product types include sealant, insulation materials, filter, power plants, pumps, valves, sensors processing parts, bearings and other commodities.
YOYIK provides multiple types of spare parts and equipments for power plant :
#DF-globe valve SHV9.6-DF
hydraulic oil pump electric 25SCY14-1B
transfer pump vane F3V10IS6SIC20
centrifugal pump impeller 100-80-125A
piston vacuum pump PVH074R01AA10A 250000002001AB010A
centrifugal pump working DFB-80-300
mechanical rubber seal HZB253-H75/110-C115-E1 00 11
hydraulic oil pump 40SDZLJ-40B×1.5
vacuum pump 261v P-1937A
industrial centrifugal pump CZ65-200
piston vacuum pump PVH074R01AA10 A250000002001AB
centrifugal pump suction LK45/CZ65-250-4
screw pump working KF090NZ/15F6
transfer oil pump YW65-50-125X2.5
sealing ring HB4-56J8-150
hydraulic electric pump 16G2AT-HMP(25)-DK025-1400
dc screw pump ACF090
globe check Throttling valve KJC100-16
vaccum pump 125LY-40-B
oil vacuum pump 100LY-215-009
globe throttle check valve LJC65C-4.0P
globe throttle check valve KJC100C-4.0P
stainless steel Throttle valve (flange) 50BJ-1.6P
pressure hose SMS-10/N1/4-1829mm-B
transfer oil pump DLXB820-R67
hydraulic oil pump electric 40SDZLJ-40B×1.5
high pressure oil pump 70LY-34*2-1
safety valve 4.5A25F-16P
vane pump working F3-317667
vacuum cleaner P-1764-1
single screw pump HSNH280-52
liquid ring vacuum pump P-1751
centrifugal water pump DFB125-80-300
high pressure piston pump PD060PS02SR S5AC00S0000000
sealing ring HB4-56J8-119
pump hydraulic 100LY-62-005
vacuum pump oil WSRP-30
globe valve SHV9.6
mechanical seal in pump XD108-45
axial piston pump 25MCY14-1B
piston pumps A10VSO100DR/32R-VPB12N00
transfer pump oil 3Gr70×2
ksb pump centrifugal CZ50-250C
axial piston pumps PVM074ER10GS0 2AAA28000000A0A
high pressure piston pump 160SCY14-1B
vacuum filter 30-WS-32
bearing bush 1 106 (83/100*283)
centrifugal pump vertical IHF80-50-200
oil transfer gear pump SDH50-32-250A
coupling flexible shaft HSND280-54
oil transfer pump SDH150-125-400A
centrifugal pump types DFB80-50-220
dc centrifugal pump DFB125-125-250
dc vane pump F3-V10-IS6S-IC-20
piston pumps PV29-2L-5D-C00
high pressure piston pump A10VS018DFR1/31RPPA12K01
radial piston pump 5MCY14-1B
high pressure centrifugal pump YCZ65-250B
mechanical seal pdf DZXB870-R67
mechanical seal parts 108-45
solenoid valve W.01.B.0143
Front filter for servo valve DP2B01EA01V/-F
vacuum pump parts P-2402
centrifugal pump vertical 65-250B
piston pump parts PVH098R01AAD3 0A250000002001AB010A
ac vacuum pump P-1764-1
one-way throttle valve DKVP-06-01/X
fluid transfer pump YWZ-350T
chemical centrifugal pump IHF80-50-200
closed circulating cooling water pump 300CS-58C
Servo valve G761-3005B
Oil Water detector OWK-2G
electric oil transfer pump 3GR25*4W2
mechanical seal in pump 125-80-250
Dfyl-2021-9-1-my
Company Contact:

Contact Name: Yuri
Company Name: Deyang Dongfang Yoyik Engnieering Co; Ltd
Email:
Tel: +86-8382206509
Fax: +86-8382300921
Street Address: Hedong
Economic&tech Open Zone Deyang,
Sichuan 618000 China
Member name: DongfangYoyik
Country:
China
Member Since: 28 December 2017
Total Leads:
787 DongfangYoyik Import Export Business Leads
Business focus: Turbines Spare, Generators Parts, Boiler, Bearings, Filters, Valves, Pump
Chat:

Verify:
Safe Import Export Tips