Product Photo: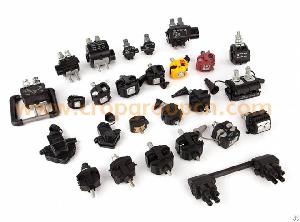 Similar Products Catalog:

Insulation Piercing Photos Catalog
Product Description:
Quick detail
Place of Origin Zhejiang, China Brand Name CROP
Model Number Insulation piercing connector
Product name insulation piercing connector IPC connector
Sample Free Material Plastic Quality Prime
Installation Quick Certifications ISO9001
OEM Acceptable Export All over the world
Business Type Manufacturer
Insulation Piercing Connector for Street Lighting
Models main line
(mm2) service line
(mm2) bolt no. torque remarks
Pct13c 95/10 6-95 1.5-10 1 10nm
Pct13cb 95/10 (b)6-95 1.5-10 1 10nm
Pct13c 120/10 6-120 1.5-10 1 10nm
Pct13cb 120/10 (b)6-120 1.5-10 1 10nm
Pct13c 70/35 16-70 4-35 1 15nm
Pct13cb 70/35 16-70 (b)4-35 1 15nm
Pct13c 95/50 16-95 4-50 1 17nm
Pct13cb 95/50 16-95 (b)4-50 1 17nm
Pct13c 120/25 25-120 6-25 1 17nm
Pct13c 150/50 50-150 4-50 1 17nm
Pct13c 185/35 50-185 6-35 1 17nm
Pct13c 95/95 16-95 16-95 1 17-23nm
Pct13cb 95/95 16-95 (b)16-95 1 23nm
Pct13c 150/150 16-150 16-150 1 23nm
Pct13cb 150/150 16-150 (b)16-150 1 23nm
Jbc-0 jbc-1 jbc-2 pct23c 240-240
25-70 35-70 35-150 50-240
6-35 6-35 35-150 50-240
1 1 1 2
Torque (Nm) 10NM 13NM 17NM 23NM
Crt041fj ttd041fj 6-35 1.5-10 1
Crt051fj ttd051fj 16-95 1.5-10 1
Crt101fj ttd101fj 6-50 2.5-35 2
Crt151fj ttd151fj 25-95 2.5-35 3
Crt201fj ttd201fj 35-95 25-95 4
Crt251fj ttd251fj 50-150 25-95 5
Crt271fj ttd271fj 35-120 35-120 6
Crt281fj ttd281fj 50-185 2.5-35 7
Crt401fj ttd401fj 50-185 50-150 2
Crt431fj ttd431fj 70-240 16-95 2
Crt441fj ttd441fj 95-240 50-150 2
Crt451fj ttd451fj 95-240 95-240 2
Crt551fj ttd551fj 120-400 95-240 2
Undergrounding ring type tap off connector
4 core or 3 1/2 core ring type tap off connector with IP2X protection and piercing retardant system.
On the connector ring is pressembled on the main conductor the plastic housing offer full protection against touching live contact teeth(finger test), test to EN 60529.During pressembly on the main conductor the contact protection system detects early contact teeth via the predetermined breaking point to ensure a large operational safety during tap off conductor assembly.
Material
High strength aluminum alloy (AIMgSi), corrosion resistant, Contacts in brass (Cu Zn), electro tinned, insulation parts are glassfiber reinforced PA, screw are steel, grade 8.8.
Type round conductor sector conductor reference
Torque
Main Tap Main Tap
UTC-1 RM/RE 70-95 RM/RE 6-70 SM/SE 70-95 SM/SE 6-50 15Nm
UTC-2 RM/RE 95-150 RM/RE 6-70 SM/SE 95-150 SM/SE 6-50 15Nm
UTC-3 RM/RE 95-150 RM/RE 6-150 SM/SE 95-150 SM/SE 6-150 15Nm
UTC-4 RM/RE 185-240 RM/RE 6-70 SM/SE 185-240 SM/SE 6-50 20Nm
Insulation Piercing Connector
The waterproof insulation piercing connectors are suitable for majority types of LV ABC conductors as well as connections to service and lighting cable cores.When tightening the bolts, the teeth of the contact plates penetrate the insulation and establish a perfect contact. The bolts are tightened until the heads shear off. Tightening torque guaranteed (fuse nut). Stripping of insulation is avoided.
Service condition: 400/600V, 50/60Hz, -10℃ to 55℃
Standard: IEC 61284, EN 50483, IRAM2435, NFC33 020.
Material:
Body: Thermoplastic polyamide 66 with fiberglass
Connecting bridge: Copper tinned, Brass tinned, Al
Sealing parts: Flexible PVC
End cap: Flexible PVC
Grease: Silica gel
Bolt: Hot dip galvanized steel, 8.8 grade
Washer, Nut: Hot dip galvanized steel
Fuse nut: Zinc alloy
Features:
• Tested for watertightness at a voltage of 6 kV for 30 min in a waterbath
• Potential free tightening bolts allow safe installations on life lines
• Bimetallic, suitable for aluminium and copper conductors
• Long neck 13 mm shear head nut ensuring reliable installations
• Components not isolated, end cap attached to body
• Insulation material made of weather and UV resistant glass fibre reinforced polymer
How to install insulation piercing connector
Single screw insulation piercing clamp Installation
1.Adjust the nut of the puncture line clamp to a proper position, and insert the branch line into the branch line cap cover.
2.insert the main line. If the main line has two layers of insulation, a certain length of outer insulation should be stripped at the connection position.
3.Put the main and branch lines in the proper position and keep them parallel. First, tighten the nut by hand to fix the clamp.
4.Tighten the nuts evenly with a sleeve wrench of the corresponding size until the top breaks off and the installation is complete.
Single screw installation piercing connector Installation diagram
Twin screw insulation piercing connector installation
1.First unscrew the wire clamp and insert the main wire into the main wire groove. Do not twist the main wire with the knife ruler. Note whether the wire diameter range corresponds to this wire clamp.
2.Put the branch line into the branch line slot. Note the same as above.
3.Tighten with a socket wrench. Disable open-end wrenches.
4.Note that the two nuts should be screwed down synchronously in sequence.
5.When tightened to a certain strength, the constant torque nut is broken and the installation is completed.
Twin screw installation piercing connector Installation diagram
Company Contact:

Contact Name: Adawang
Company Name: Yueqing Crop Trading Co Ltd
Email:
Tel: +86 057762592550
Fax:
Street Address: No.77, Zhongji Rd,
Yuecheng Town, Yueqing City,
Zhejiang, 325600, China
Wenzhou, Zhejiang 32560-0
China
Website:
https://cropgroupcn.com/
Member name: yueqingcrop
Country:
China
Member Since: 21 October 2021
Total Leads:
11 yueqingcrop Import Export Business Leads
Business focus: Electric Accessories, Abc Accessories, Transmission Fitting, Distribution Fitting, Pole Line Hardware
Chat:

Verify:
Safe Import Export Tips