Product Photo: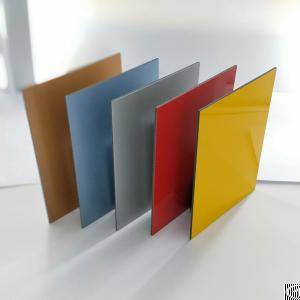 Similar Products Catalog:

Pvdf Aluminum Photos Catalog
Product Description:
PVDF Aluminum Composite Panel
The aluminum composite panel is a new type of material that has been surface-treated
and coated with an aluminum plate as the surface and polyhexene plastic plate as the core layer.Aluminum composite panels were first developed and manufactured by ALUSINGEN in Germany and later improved by FORKEN and ALOCA. After the 1990s, the quality of aluminum composite panel gradually stabilized and reached a high level. Since the aluminium composite panel is composed of two materials (metal and non-metal) with distinct properties, it retains the main characteristics of the original constituent material (metallic aluminum, non-metallic polyhexene plastic) and overcomes the deficiency of the original constituent material and then obtained a lot of excellent material properties such as weathering, corrosion resistance, resistance to hit, fire, moisture, noise, heat insulation, shock resistance; lightweight, easy processing and molding, easy handling and installation and other characteristics. These properties open up a broad application for the aluminum composite panel.
Aluminum composite panel classified by surface decoration effects
a. Coating decorative aluminum composite panelThe surface of the aluminum plate is coated with various decorative coatings. The commonly used coatings are aluminium PVDF, polyester and acrylic coating. And the common colors are metal color, plain color, pearl color, fluorescent color and other colors with a decorative effect.b. Oxidized and colored aluminum plastic boardAnodic oxidation in time process enables aluminum alloy panels with rose red, bronze, and other unique colors, playing a special decorative effect.c. Foil decorative composite boardAccording to the process conditions, the color pattern film relying on the function of adhesive stick to the aluminum composite panel. The main varieties are Gangzha, wood board and so on.d. Color printing aluminum plastic boardA variety of imitation natural patterns are printed on the transfer paper through advanced computer photo printing technology, and then these imitation natural patterns are indirectly reproduced on the aluminum composite panel by thermal transfer technology. Such technology can meet the designer's creativity and the owner's personalized choice.e. Brushed aluminum composite panelThe use of surface treated aluminum alloy panels, commonly known as gold wire drawing and silver wire drawing products showing people different visual sensations.f. Mirror aluminum plateThe surface of the aluminum alloy panel is polished to look like a mirror.
2. Specification of aluminum plastic board
The common specifications of ordinary aluminum composite panels are as follows:a. Total thickness 3mm, 4mm, 6mmb. Width 1220mm, 1500mmc. Length 1000mm, 2440mm, 3000mm, 4000mm, 6000mmd. Size 1220*2440mm aluminum composite panel is considered as the standard board in the industry.PVDF aluminum composite panel, commonly used for exterior decoration, and the thickness is better than 4mm or more than 4mm.Fluorocarbon paint (PVDF): At least double coated, 70% fluorocarbon content, a layer of paint on the surface and a primer. Measured with a film thickness gauge, > 0.025 mm. Wipe with butanone 200 times without exposure.Features of PVDF aluminum composite panel: It is an aluminum composite panel compounded by two aluminum panels(upper and lower) and middle low-density polyethylene core through continuous hot pressing treatment.The main function of PVDF aluminum composite panel: New Building Exterior Wall Decoration, Old Building Exterior Wall Renovation, etc.Fluorocarbon spraying refers to spraying polyvinylidene fluoride paint on the surface of aluminum alloy substrate by electrostatic action.The fluorocarbon bond is one of the strongest known molecular bonds.Fluorocarbon coatings have long-lasting color retention, corrosion resistance, anti-aging, and air pollution resistanceAnti-ultraviolet resistance and crack resistance and also is able to withstand adverse weather, environmental impact
Advantages of PVDF aluminum composite panel
1. EconomicAluminum composite panel adopts all kinds of high-quality coatings such as PVDF aluminum composite panel and does not require long-term maintenance, eliminating the cost of maintenance and maintenance of high-rise and large-scale buildings. The urban pollution condition in China is serious. After a few years of use, it needs to be maintained and cleaned. Because of its good self-cleaning properties, only neutral detergents and fresh water are needed. After cleaning, the plates are permanently new.2. Durability:The PVDF aluminum composite panel has the advantages of durability, weather resistance, high-temperature resistance, abrasion resistance, and pollution resistance.3. Smoothness:PVDF aluminum composite panel provides an excellent flat surface that satisfying the modern architecture's pursuit of a high level of perception.4. Lightweight:PVDF aluminum composite panel is made of aluminum alloy and high-quality plastic. It is lighter than other decorative materials, reducing the weight burden of the material itself, and facilitating construction and shortening the construction period.5. Easy construction:PVDF aluminum composite panel is easy to cut, cut, planed ditch, bend into arcs, right angles and other shapes, can fully cooperate with the decoration and design of a variety of models.6. Fire resistance:The non-combustible outer pvdf coated aluminium sheets​ of the aluminum-plastic panel, and the flame-retardant and non-combustible fireproof core material can prevent heat conduction during the initial stage of combustion. Its fire-resistance meets international standards.7. The design of playfulness:PVDF aluminum composite panel can be produced with distinctive colors and shapes according to customers' requirements. They can satisfy designers' unique designs and achieve perfect decorative effects.8. Good environmental coordinationAluminum and plastic core materials in the discarded aluminum composite panel can be 100% recycled, so the environmental load is low. In addition, the outdoor decorative aluminum composite panel adopts PVDF fluorocarbon paint. The PVDF aluminum composite panel has high durability, low daily maintenance costs, and thus reduces the life cycle cost.9. The wide range of usesThe aluminum composite panel is cost-effective and has a wide range of uses. They can be used not only for the decoration of curtain walls, interior and exterior walls, foyers, restaurants, shops, conference rooms, but also for the reconstruction of old buildings, for use as counters, furniture surfaces, and vehicles. Inside and outside walls and so on.After years of development, Zhejiang Jinxiang Panel Industry Co., LTD. Has become a well-known manufacturer of the aluminum composite panel. Our aluminum composite panel is now exported to the United States, Australia, Russia, Ukraine, Azerbaijan, Kazakhstan, Turkey, Iran, Kuwait, Israel, the United Arab Emirates and other Middle East countries and Southeast Asia and other countries and regions. PVDF aluminum composite panel is our hot products.
Company Contact:

Contact Name: Nelson
Company Name: No.638, Qianxi Industrial Area, Wucheng District, Jinhua City, China
Email:
Tel: 0579 82228865
Fax:
Street Address: No.638, Qianxi
Industrial Area, Wucheng District,
Jinhua City, Zhejiang 321000
China
Member name: ZHEJIANGJINXIANGPANEL
Country:
China
Member Since: 13 December 2018
Total Leads:
5 ZHEJIANGJINXIANGPANEL Import Export Business Leads
Business focus: Aluminum Composite Panel, Aluminum Composite Panel Factory, Aluminum Composite Material, Acp, Alucobond
Chat:

Verify:
Safe Import Export Tips