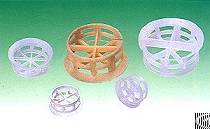 Yuanying Tower Packing Photos Catalog
Tower Packing
Yuanying tower packing includes metal tower packing, plastic tower packing, ceramic tower
packing.
Metal tower packing is made of carbon steel, aluminum alloy, stainless steel 304, 304L, 410, 316, 316L etc. Plastic tower packing is made of PE, PP, PVC, CPVC, PVDF, etc. Ceramic tower packing has the excellent acid resistance and heat resistance property, it can stand up to corrosion of various inorganic acids, organic acids and organic solvents, except HF, can be used in high or low temperature and strong corrosion equipment.
Tower packing includes the following products: pall ring, raschig ring, intalox saddle, conjugate ring, cascade mini ring, mellaring, interlocks, nutter ring, super mini ring, covering ball, berl saddle, lessing ring, Tri-Y ring, cross ring, spiral ring, hacketten, heilex ring, teller rosette ring, polyhedral ball, hollow floating ball, pentagon ring, hiflow ring, snowilaker, six prismatic ring, wheel ring, stacked ring packing, dixon (θ Ring), fenske spiral, glass spring packing, cannon packing, helipak, mcmahon packing, HY-PAK, sulzer gauze packing, mellapale packing, piercing hole mellapale, mesh corrugated packing, ceramic geometric packing, structured packing.
Pall Ring
Metal Pall Ring
Metal Pall Ring used in petrochemical industry is made of material like carbon steel, stainless steel or Aluminum alloy, etc. The product has features such as thin wall, heat resistant, high free volume, high capacity, low resistance, high separation efficiency and so on. It is especially suitable for rectification towers under vacuum to treat thermo sensitive, decomposable, polymerizable or cokable systems, so it is widely used in packing towers in petrochemical industry, chemical fertilizer industry and environmental protection, etc.
Material available: carbon steel, stainless steel including 304, 304L, 410, 316, 316L.
Plastic Pall Ring
Plastic pall ring's structure improves distribution of gas-liquid and its efficiency can be improved above 50%and only has half of pressure drop compared with raschig ring.
Pall ring has some advantages such as lower pressure drop, big flux, high effeciency, which HYPAK packing has better efficiency and lower pressure drop and better distribution of liquid compared with common pall ring.
Available material: PVC, CPVC, PP, PE, PVDF
It can be applied to various of device of isolation, absorption, deadsorption, common decompression such as toluene separation, ethylbenzene separation, isooctane separation and desulfurization system etc.
Ceramic Pall Ring
The Pall ring is a kind of new type and high efficient packing that is improved on the basis of the Raschig ring. Yuanying pall ring is a proven design that provides higher capacity and lower pressure drop than trays and other random packing. The opened cylinder walls and inward bent protrusions of the Pall Ring allow greater capacity and lower pressure drop than standard cylindrical rings. This open ring design also maintains an even distribution and resists wall-channeling tendencies. The interior and exterior contacting surfaces of the Pall ring provide for an effective distribution of liquids and gasses and resist plugging, fouling and nesting.
Raschig Ring
Metal Raschig Ring
Since 1914 when F.Raschig invented this type of ring for tower packing, Metallic Raschig Ring used in petrochemical industry has been developed extensively. The R-ring is now used in many applications, but particularly in supporting catalyst beds.
Metallic Raschig Rings are available in a wide range of carbon and stainless steels, 304, 304L, 410, 316, 316L etc.
Plastic Raschig Ring
There are kinds of materials for Plastic Raschig Ring, such as PP, PVC, CPVC, PVDF, PTFE, PE.
It has the following advantages:
a. Low pressure drop, excellent distribution, large void space, large flux, high mass-transfer effiency, low energy consumption, etc. Operational temperature range: Up to +150℃
b. Widely used in separation and absorption process, reducing pressure for device, deviating sulfur for the systems. It can easily isolate ethylbenzene, Toluene, trimenthypentane etc.
c. Package: Enhanced plastic super bag in jumbo bag, wooden case or carton. Other packing methord are available upon customers' request.
Ceramic Raschig Ring
Raschig ring is a form of random packing and is used in commercial fractional distillation columns to reduce pressure loss (versus using trays), while maintaining good efficiency and economy. Raschig ring is proven in a wide range of mass transfer applications. Raschig ring structure provides one of the largest surface areas among tower packing options and handles heavy loading, process upsets and temperature shocks.
Intalox Saddle
Metal Intalox Saddle
Its advantages:
1) Improved efficiency due to lateral liquid diffusion and surface film renewal
2) Outstanding surface utilization in mass and heat transfer applications.
3) Shorter packed bed heights
4) Maximum piece-to-piece contact with minimal nesting
5) High strength to weight ratio allows up to a 15 meter bed height
6) Consistent performances due to uniform randomness
7) Free flowing particle design facilitates installation and removal via uniform randomizing
Plastic Intalox Saddle
Intalox saddle has characteristics of high void ratio, low pressure drop, low mass-transfer unit height, high flooding point, uniform gas-liquid contact, small specific weight, high mass transfer efficiency and so on. It is widely used in the packing towers of petroleum industry, chemical industry, chlorine-alkali industry, coal gas industry and environmental protection.
Ceramic Intalox Saddle
Ceramic intalox saddle is improved from the arc saddle, it changes the both arched surface to rectangular surface and makes the interior and exterior radius of curvature different, this construction overcomes the problem of nesting basically, it makes porosity distributed even and improves the distribution of the fluid, greater capacity and lower pressure drop than Raschig ring.
Company Contact:
Contact Name: Earuler Wang
Company Name: Yuanying Industry Limited
Email:
Tel: 86 799 6859700
Fax: 86 799 6859700
Street Address: Wangongtang, Anyuan
District
Pingxiang, Jiangxi 337000
China
Website:
http://www.yyindustry.com/
Member name: pxwhz
Country:
China
Member Since: 19 August 2013
Total Leads:
48 pxwhz Import Export Business Leads
Business focus: Activated Alumina, Molecular Sieve, Clay Desiccant, Activated Carbon, Honeycomb Ceramics, Tower Packing, Ceramic Ball, Intalox Saddle, Pall Ring
Chat:

Verify:
Safe Import Export Tips